You may be getting ready to plan a vacation, a honeymoon, or even a destination wedding.  You could do all of the online research, planning, and booking yourself, but why would you want to when you could get valuable help from a Travel Specialist?  Maybe you have tons of free time on your hands.  Maybe receiving personal service isn't your "thing."  Or maybe you've just never considered it.  Getting the help of the right Travel Specialist can offer many benefits that you might not be aware of.
Here are some great reasons why working with a Travel Specialist is a WIN for travelers: 
WIN #1:  Their travel SPECIALTY is worth their weight in gold (figuratively, of course).
It's a bonus for you if you work with a Travel Specialist who actually specializes in the particular type of vacation or destination you are interested in.  They will be the best resource for helping you because they are an EXPERT in that specialty.   Their training and firsthand experience will be thorough, giving you the benefit of their in-depth knowledge and of their solid relationships with travel suppliers niched in their specialty.  To give you an idea…At Dreamday Travels, I specialize in luxury all-inclusive Sandals and Beaches Resorts throughout the Caribbean.  I am also an Accredited Master Wedding Planner.  So, if you want to take a culinary trip to Italy, or go on a cruise through Glacier Bay in Alaska, I'm NOT your gal.  BUT, if you're planning a destination wedding, a romantic honeymoon, a family vacation, a milestone birthday celebration, a best friends getaway, etc., and you'd like to go the Caribbean and enjoy the luxuries of an all-inclusive Sandals or Beaches Resort…I am DEFINITELY your go-to person.
WIN #2:  The services are free, and you can actually save money.
People sometimes have the misconception that their vacation will cost more if they work with a Travel Specialist.  Most Travel Specialists don't charge any fees for their services.  Travel agencies are not typically paid by their travel clients, but are instead compensated by the travel suppliers such as the hotels, cruise lines, resort companies, etc.  Here at Dreamday Travels, I don't charge fees for my services and expertise, and you will not pay any less if you book online yourself.  In addition, Travel Specialists are up to date on the most cost-effective dates to travel, current specials, promotions, extra freebies, and last-minute deals that can save money for our travel clients and give you the best value.
WIN #3:  You'll have your very own go-to PERSON.
There are a lot of uncertainties that come along with DIY online booking.  And a random person at a booking call-in center or on a pop-up chat doesn't know you. (Insider FYI: They've most likely not even been to the locations they're booking you into.)  Their job is to sell, not to advise.   Do you want a vacation filled with days of adventurous excursions, or would you rather relax on the beach sipping frozen drinks delivered by your personal butler—or perhaps both?  Your Travel Specialist is a real person who will take the time to get an understanding of your travel style and the vacation experience you're looking for.  They'll properly book your reservations and will be available throughout your travel planning to answer your questions, take care of requests, make changes and updates, offer recommendations, and handle your travel arrangements.  There's a certain reassurance that comes with having the same go-to person to reach out to for assistance whenever you need it.  Your Travel Specialist can truly be your direct personal "help-line."
WIN #4:  You'll get recommendations that are customized to YOU.
Travel Specialists have the inside-scoop on the destinations and resorts they're sending you to.  They not only receive in-depth professional training about the locations, but most also travel frequently and stay at the locations themselves.  They're knowledgeable about resort features, rooms, views, food quality, activities, staff, service, and the best excursions and sites to see. Their firsthand experience allows them to match your travel personality and wishes to the location you would enjoy most.  And they can give you the heads-up about things that you wouldn't be aware of when looking online yourself.
For example, I recently had a destination wedding guest getting ready to travel to the Caribbean from the snowy northeast. She was going to book a particular room because it was described as an ocean view.  (The resort where she was booking is very large and has many different buildings and villas to choose from.) While there is a view of the ocean from that room, I know the ocean view from that room is way in the distance on the opposite side of the resort property.  As I discussed this with her, I discovered that what she really wanted was to enjoy the warm weather and sit on a balcony with her morning coffee and look out at the water. I was able to recommend a room that was exactly what she envisioned—directly on the beach, with a balcony overlooking the ocean.  A Travel Specialist is in-the-know about these types of details and can match you with whatever is most important to you.
WIN #5: They'll look out for you, and help if anything goes wrong.
Keeping you informed is one of the ways your Travel Specialist helps before you travel.   They can update you on resort and location facts, travel tips, documentation requirements, and make you aware of any travel advisories.  They have VIP connections with the resorts and can make arrangements for perks, special requests, extra amenities, and upgrades when possible.  And if an issue pops up, or if you aren't satisfied with something about your room, your Travel Specialist can be your direct contact to help make things right.
WIN #6:  It makes your life easier.
Giving the task of vacation planning and reservation booking to a Travel Specialist will help take away the stress of vacation research, and it will save you time.  In fact, a recent study mentioned on www.Msn.com  found that, "one in eight travelers spend more than 15 hours researching before booking their vacation…and became bored after just 40 minutes of research."  A Travel Specialist will remove the guesswork and will narrow down your many options while helping you avoid the information overload that could overwhelm, bore, or perplex you.
And that is why working with a Travel Specialist is a WIN for you as a traveler.  You could choose to go it alone, but there are so many benefits that come with the services and direct help that a Travel Specialist provides. Allow me to take the stress out of travel so you can start enjoying your vacation before your feet even touch the sand.
My services are free when you book your vacation through me—including destination wedding planning at Sandals and Beaches.  If you'd like to know more, or if you're ready to get started, reach out to me here or email me directly at info@dreamdaytravels.com.  If you'd like to schedule a complimentary 30-minute call, you can do that now by clicking here. 
Related Articles: 5 Things to Consider When Choosing Your Sandals Honeymoon Destination  |  Travel Planner's Souvenir Ideas for Your Caribbean Vacation
Happy travels!
Christine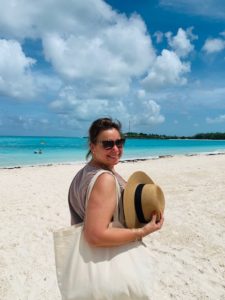 Christine Terezakis is the founder and owner of Dreamday Weddings and Dreamday Travels.  She has over 15 years of experience in the wedding industry as an Accredited Master Wedding Planner and Certified Sandals and Beaches Resorts Specialist.  Christine combines her wealth of experience, passion for weddings, and love of travel to inspire, guide, and serve travel-lovers who enjoy the ease and luxury of all-inclusive resorts, and couples who are planning their dream weddings, and Caribbean destination weddings and honeymoons.
FOLLOW US:
Instagram: @dreamdaydestinations
Facebook: Dreamday Destinations
Facebook: Dreamday Weddings & Events / Dreamday Celebrations
Pinterest: Dreamday Weddings | Dreamday Destinations