There are so many beautiful islands in the Caribbean where vacationers can enjoy the sun and sand, swim the tranquil blue waters, experience adventures and unique excursions, or simply relax and enjoy everything your resort has to offer.  If you're staying at an all-inclusive resort, there will be a variety of activities to partake of, and a mix of dressy and casual dining and event options to enjoy.  So, how do you decide what to pack to make sure you have everything you'll need and the right outfits for everything?
I'm sharing my tips right here!
WHERE to begin…
To start, check the weather of your destination.  Is the season running hotter than normal?  Will it be rainy?  That leather jacket you have looks great on you, but maybe your lighter jean jacket would be more comfy.  (Tip:  Light wraps are a great layer for extra warmth in the Caribbean, and they can double as a cover up for your bathing suit.  Wear your jacket/sweater/wrap on the plane where it can sometimes be chilly.  This will leave more space for other items in your suitcase.)
Think about what activities you'll be doing so you'll know what you'll need to bring.  Will you be doing water sports that will require water shoes?  Are you attending a formal event where you'll need heels or a bow tie?  Is the resort hosting a themed party where you can dress to coordinate?  For example, Sandals often hosts White Night & Chocolate Buffet where guests are invited to wear all-white.  (Tip:  Make a list of each day and each activity you'll be doing.  Write down the outfit and accompaniments you'll need next to each activity to help you plan what to pack.)
Be aware that your resort may have some dress code requirements while on property at the restaurants. Most are "Resort Casual" which means you can wear swimsuits with cover ups, jeans, capris, shorts, T-shirts, sneakers, and flip flops.  Some will even specify that "bare feet are accepted" when located at the beach or pool.  "Evening Attire" is specified at some of the fancier restaurants.  This means men can wear pants or nice jeans with a polo or collared shirt.  T-shirts, sleeveless shirts, and shorts are not typically acceptable.  For women, a casual dress or blouse with slacks/skirt/nice jeans are just right.  Evening attire means both men and women should avoid wearing flip flops.
HOW to pack…
I recommend that you pack light and carry-on.  Not checking a bag makes getting through the airport  and customs a breeze. Since the weather in the Caribbean is typically warm, clothing made of lightweight fabric is all you'll need, and can be easily packed in a carry-on suitcase.  You can also bring a large tote as your personal item for packing whatever doesn't fit in your carry-on.  This is where I pack my makeup and toiletry bag, and any comforts for my flight.  (TIP:  I also include a bathing suit, cover up, flip flops, and foldable beach tote in this bag.  If my room isn't ready for check in, I can change when I get to the resort and start enjoying my vacation right away.)   (NOTE:  No need to pack the following items that most resorts include in each room: shampoo, conditioner, body lotion, soap, hair dryer.)
I'll admit that in the past, I've been a total over-packer.  (Yes, I was that person who had to take things out of their suitcase at the airport to make it light enough for check-in.  That 50lb limit just didn't cut it for me.)  But I've learned to pack light for my Caribbean travels.  I can now pack carry-on only + tote for a week in the Caribbean!
Here are some TIPS I've learned along the way:
Pack clothes that can be mixed & matched with everything you bring, including some pieces that can be worn more than once. You can wear bottoms again by switching your tops.  Choose a solid color dress that can be worn in the day or night—change the look by adding a jacket or changing your accessories.  Or take a dress that can be converted into several different styles so you won't have to pack as many.
For every bottom, pack two tops. (White for bottoms is a great color choice because it goes with everything.)
Take a pair of jeans. They can be dressy with a fancy blouse, or fun and casual with a tee or tank.
Choose items that can serve more than one purpose—A long sleeve button-down can be a top for an outfit, a layering piece for warmth, and a bathing suit cover up. A wrap/pashmina can become a skirt, decorative scarf, or beach blanket.
Don't over pack shoes. You only need 3 pairs— flip flops, a pair of comfy shoes/sandals/sneakers for daytime or excursions, (for ladies) sandals for the evening, (for men) nice loafers for evening.  If you need to bring bulky sneakers for exercise, wear them on the plane so they don't fill up your suitcase.
Roll your clothes so you can take advantage of every nook and cranny of your carry-on.
WHAT to pack.
Since each person and each trip is different, I'm not including a specific itemized packing list, or mentioning obvious things you should have with you like your sunglasses.  But here are THE GO-TO ITEMS I always take when I'm heading down to the Caribbean:
(For Women)
White Jeans or Capris, and a White Skirt (White bottoms go with everything and can be casual or dressy)
Long Sleeve Chambray or White Button Down Shirt (multi-purpose)
Solid Knit Tank-style Short Dress (wear day or night)
Lightweight Jean Jacket (wear on plane, layer for changing up outfits)
Wrap/or Pashmina (multi-purpose)
White V-neck T-shirt (can be casual or dressy)
Pair of metallic flat sandals (wear day or night)
Small purse (take to dinner, put in beach bag for holding small items, pack in travel tote on plane as wallet and for travel documents)
Medium-Wide Brimmed Hat (dressier than baseball cap)
Foldable tote (use as beach bag or satchel for shopping)
TWO bathing suits (one to wear while one dries)
And here are THE GO-TO ITEMS my hubby is always sure to have with him on our Caribbean trips:
(For Men):
Lightweight Loose Short Sleeve Button Down Shirts (his favorite resort style for the hot weather, looks dressy)
Extra T-shirts (wear during the day, great for changing due to sweating in the heat)
Shorts! (mix of dressy and casual)
Long pants (for dinner when required)
A couple of Dress Shirts, long sleeve button down (for dressier dinners)
Slip on style shoes (boat shoes, loafers)
Medium City-style Backpack (second carry on item for plane, great to take on excursions)
Hat (hats are a necessity in the Caribbean sun)
TWO bathing suits (one to wear while one dries)
READY TO GO!
Now that you know how and what to pack, you're on your way to enjoying an amazing Caribbean vacation!  I'm a Travel Specialist with an expertise luxury all-inclusive resorts throughout the Caribbean.  If you'd like to find out which all-inclusive resort is right for you, reach out to me here.  I know the resorts inside and out, and can help you choose the one that is the best fit for the vacation experience you're looking for.
Enjoy your travels!
Christine
Related Articles:  What to Bring on Your Romantic Getaway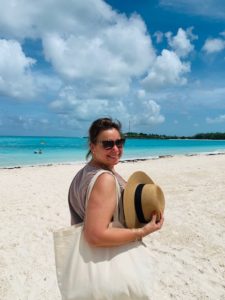 About the Author:
Christine Terezakis is the founder and owner of Dreamday Destinations. She has over 17 years of experience in the wedding and travel industry and serves her clients and community as an Accredited Master Wedding Planner, Destination Wedding Travel Advisor, Certified Sandals and Beaches Resorts Specialist, AM Resorts Master Agent, and Authorized Disney Cruise Planner. Christine combines her wealth of experience, passion for weddings, and love of travel to inspire, guide, and serve travel-lovers who enjoy the ease and luxury of all-inclusive resorts, and couples who are planning their dream destination weddings and romantic getaways throughout the Caribbean and Mexico.
FOLLOW US!
Instagram: @dreamdaydestinations
Facebook: Dreamday Destinations