If you're one of the many couples faced with the tough decision to postpone your wedding due to the COVID-19 pandemic, I'd like to offer you some POSITIVE and CONSTRUCTIVE IDEAS during this situation.  Today I won't be talking about HOW TO POSTPONE your wedding.  Instead, I'm going to share my suggestions of HOW TO KEEP YOUR WEDDING PLANS MOVING FORWARD WHEN YOU HAVE TO POSTPONE YOUR DATE.  So, take heart. Whether you're planning a local wedding or a destination wedding, your planning doesn't have to come to a complete stop.  Use this unique time of sheltering-at-home to your advantage.
Here's how you can keep your wedding plans moving forward when you have to postpone your date:
Get familiar with your options. Have real conversations with your planner, venue and vendors, and thoroughly review your contracts.  Having a solid understanding of how (and if) each will handle a postponement/date change will help you navigate the next steps in your wedding planning.  You might have to start shopping for some new vendors, which is something you can start doing from now.  (Speaking of shopping for vendors—this would be a good time to look into getting wedding/event insurance for your new date if you can, and travel insurance if you're planning a destination wedding.)
Keep communication open and frequent.  This is key for a smooth date transition and for continuing the forward motion of your plans.    Inform guests of the change right away.  Let them know that a new date will follow, and tell them how you will communicate it to them.  Keep in touch regularly with your venue and vendors with questions and updates, and find out what future dates they each have available for you to choose from.  Discuss date options with your closest peeps: immediate family and wedding party.  They'll absolutely want to be part of your Big Day, so, you'll want to make sure to pick a date when they'll all be able to attend.  This will not be a quick task, but, picking your new wedding date will be a huge step in your wedding planning so that everything else can be put into place.
Work on your personal wedding website.  If you don't have one, now is the perfect time to create one.  There are plenty of free templates and free hosting available.  Here are a few to check out:  www.minted.com, www.theknot.com , and www.weddingwire.com   If you already have a wedding website (good for you!), now is a great time to update it.  Maybe you only had time before to create a quick site with your basic wedding info.  Now you have time to really tweak it!  Upload photos, write about how you got engaged, create bios of your wedding party members, post links to your wedding gift registry, etc.   Post new info as you have it so your guests can check in on your plans and updates—such as your new wedding date!
Set up and make selections for your wedding gift registry/registries. Now, you might ask?  Absolutely!  Wedding gift registry sites make registering (and selecting the perfect gifts for you) a breeze.  Here are a few suggestions to check out:  www.Zola.com, www.myregistry.com, www.blueprintregistry.com  With all the time you now have on your hands, you have an excuse to do some online "shopping!"  (You're welcome.)  And don't forget to add the registry links to your wedding website.
Select your wedding invitations.  Don't order them yet, but pick out all the details of your wedding invites—the style, the paper, the fonts, the ink color, the wording (with placeholders for pending info), envelope lining, enclosure cards, etc.  Once your new date is decided, all you'll have to do is add the date (and any other pending info).  You'll be ready to order your invitations in record time!
Procure any necessary wedding items you can purchase or make from now regardless of your wedding date.  These would include things such as wedding party gifts, favor supplies, frames for signage and table numbers, optional ceremony and reception items such as unity candle, sand ceremony vases, guest book, toasting flutes, cake serve set, garter, etc.  Purchasing items and supplies not only helps you keep up with your wedding planning tasks, but it also helps to keep our economy alive during this crucial time.
Work on your music selections for wedding day.  Pick out music for your ceremony, songs for your first dance and parent dances, for wedding party intros, for cake cutting, and for any other special happenings you are planning for your celebration.  This is also a good time to create a DO NOT PLAY LIST and a MUST PLAY list for your DJ or band.
Jump-start your guest seating/table assignments for your reception.  It's not too early to do this because you already know who you're inviting.  This is a task that almost always gets left too close to the last minute for weddings, and it takes a good amount of time to work on.  Granted, you can't finalize this until you have actual RSVPs.  But you can at least start making lists of your guests by groups so you get an idea of who to seat together at tables.  (Example lists: Immediate family, wedding party, work friends, college buddies, neighbors, distant cousins, your parent's friends). Make your lists as though everyone you're inviting will attend.  Then break your lists into smaller lists of 8-10 people (which will be your assigned tables and groupings).  When your RSVPs come in, you'll have the seating assignments already done.  All you'll have to do is remove people who are not attending, possibly move a few people around, and make minor adjustments to the number of tables and chairs needed.  (Trust me, you'll be glad you worked on this from now.)
Make your honeymoon plans.  Once your wedding date is rescheduled, you'll be able to choose dates for your honeymoon (yay!).  Have fun researching locations, accommodations, activities, and excursions (which, by the way, you could add to your gift registry).  If you're unsure of where to go or what to do, and would like the help of a travel specialist, now is a great time to connect with one who specializes in the type of honeymoon travel you'd like to do.  A travel specialist can make honeymoon vacation suggestions that are the best fit for you and also make sure you're getting the best pricing.  Many hotels and resorts are already running specials for travel bookings dates after May of this year and into next year.
Lastly, I want to remind you to stay positive.  I know that times are difficult right now, but don't let a wedding date postponement tear you down.  Continue to remind yourself of the most important thing…YOU ARE GOING TO MARRY THE LOVE OF YOUR LIFE!
I hope this article has given you a positive boost and was helpful if you're navigating the postponement of your wedding.   Thank you for taking the time to read it.  If you'd like an experienced destination wedding planner and travel specialist to help you with your plans as you move forward, you can get in touch with me today by clicking here.  I offer my professional services for vacation bookings, honeymoon planning, and destination wedding planning at all-inclusive Sandals and Beaches Resorts for free.
Wishing you all the best with your plans,
Christine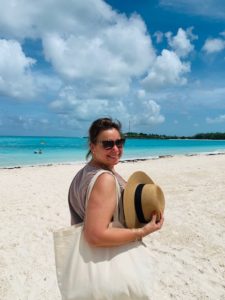 Christine Terezakis is the founder and owner of Dreamday Weddings and Dreamday Travels. She has over 15 years of experience in the wedding industry as an Accredited Master Wedding Planner and Certified Sandals and Beaches Resorts Specialist. Christine combines her wealth of experience, passion for weddings, and love of travel to inspire, guide, and serve travel-lovers who enjoy the ease and luxury of all-inclusive resorts, and couples who are planning their dream weddings, and Caribbean destination weddings and honeymoons.
Follow us:
Instagram: @dreamdayweddingsfl
Facebook: Dreamday Weddings & Events / Dreamday Celebrations
Facebook: Dreamday Destinations
Pinterest: Dreamday Weddings