It's an incredibly happy and exciting time when you first get engaged. Congrats if that's YOU at this moment! (Can't stop gazing at that beautiful ring on your finger, right?)
If you just got engaged and are wondering what to do first, you're in the right place because we're sharing tips about what to do soon after your proposal—simple tips that you won't typically see elsewhere. These ideas are meant for engaged couples like you, before you kick into high gear with your wedding plans.
5 Simple Things to Do When You First Get Engaged, from a professional wedding planner:
Celebrate your big happy news. Once you've announced your engagement, host a get-together with your closest friends and family to relish this special time. Do something fun and casual like a dessert party, pizza night, or backyard bonfire so you can spend quality time with your nearest and dearest before wedding planning starts to take up much of your free time.
Schedule a professional photo session. It's fun, plus you'll get a lot of mileage out of those engagement photos. They can be used for your Save-the-Dates, displayed at your wedding, included in thank you notes, and enjoyed in your home. It's also a great way to try out a photographer you might be considering for your wedding day to make sure their style is a good fit for you.
Do a passport check. If you'll be going on a honeymoon trip or doing a destination wedding, chances are that you'll need a passport. If you don't have one, now is the time to apply for one so you won't have to stress about getting it in time for your wedding in case of potential delays. If you already have a passport, check to make sure it doesn't expire less than 6 months after the dates you'll be traveling. If it does, apply for a renewal.
Prep for your planning. Get psyched and get organized before you jump into planning tasks and all of your online research.  Attend a fun bridal show. Look at some wedding magazines. And set up a simple system to help keep your plans organized. You'd be amazed at the life-saver a 3-ring binder of your wedding info can be! You can start right here by downloading our free jump-start planning kit of helpful checklists and planning tips.
Relax and savor this moment in your relationship. The time between getting engaged and getting married is unique and special. Be sure to slow down and enjoy it. Consider going on a little trip or doing a stay-cation where just the two of you can take time to celebrate this next step. Take the pressure off by knowing that you don't have to jump directly from proposal to wedding planning right away.
Once you've checked off these post-engagement tips, you'll be well-prepared to dive into your wedding planning and enjoy every moment.
If you found this article helpful, be sure to FOLLOW us for more inspiration, tips, and ideas.
If you're interested in our help with your destination wedding or honeymoon plans, click here to request a 30-min complimentary phone consultation.
Happy planning,
Christine
Engagement Photo Credit: Verola Studios
About the Author: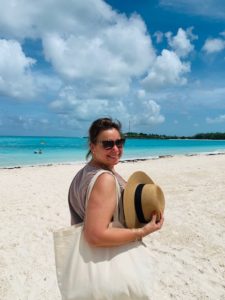 Christine Terezakis is the founder and owner of Dreamday Destinations. She has over 16 years of experience in the wedding and travel industry as an Accredited Master Wedding Planner, Destination Wedding Travel Advisor, Certified Sandals and Beaches Resorts Specialist, and AM Resorts Master Agent. Christine combines her wealth of experience, passion for weddings, and love of travel to inspire, guide, and serve travel-lovers who enjoy the ease and luxury of all-inclusive resorts, and couples who are planning their dream destination weddings and romantic getaways throughout the Caribbean and Mexico.
FOLLOW US:
Instagram: @dreamdaydestinations
Facebook: Dreamday Destinations