You've both said "YES." (Hooray!) Whether you're newly engaged, or have been engaged for some time, you'll ultimately be planning a honeymoon. But, do you know the ins and outs of how to plan it? If you answered, "not exactly," then don't worry because you're in the same boat as many engaged couples just like you.
There's a lot of planning that's required, and so much to consider—destination, resort, accommodations, airfare, excursions…the list goes on when considering the type of honeymoon experience you're dreaming of.
So, how do you survive honeymoon planning and wind up with the trip that's just right for you? Read on!
Here are my 9 Need-to-Know Tips for Planning Your Perfect Honeymoon:
Create a honeymoon wish list.
Before you do any honeymoon planning, you and your future spouse need to take some time to make a list together of what you both are hoping to get out of your honeymoon. What's important to you for this particular vacation?
Some ideas: Would you enjoy gourmet food in fine restaurants, or is a casual buffet and quick-food service all that you need? Do you care more about having a stunning honeymoon suite with a private plunge pool, or are you satisfied with a standard room? Do you prefer a long stretch of swimmable beach, or are beautiful pools more important to you? What type of excursions would you enjoy, if any? Are you spa connoisseurs? How far would you be willing to fly?
Take recommendations "with a grain of salt."
What I mean by this is not to base your decisions solely on recommendations from your friends. Suggestions are great, but you have to remember that you are a completely different couple than they are, and your budget is different too. What is great for one couple, may not be great for you. It's fine to get their ideas, but use those as a starting point, not your ending point. And please, don't go to Trip Advisor until you've narrowed your selection of honeymoon resorts to two or three options. Otherwise, you'll risk information overload setting in!
Take a look back.
Think about your past travel experiences, and weigh in about what you liked and didn't like, what you'd do again or what you'd do differently. Then add ideas from these to your wish list. This is something I like to ask my travel clients in order to help them get crystal clear on the type of trip they want to take. Doing this will prepare you for the next step…
Make your list of potential honeymoon destinations.
Now you should be ready to start making a list of the destinations you're interested in. Use your honeymoon wish list to help you narrow down locations that offer what is on your list. Try to keep this to no more than 3 destinations. You may enjoy this quick reel I made about 4 things to consider before choosing your honeymoon destination.
Research possible honeymoon resorts on your destinations list.
Once you have a short list of honeymoon destinations chosen, you can start to research the resorts located there. Keep your wish list top of mind so you can be sure the resorts you consider have the qualities you're looking for. For example, if one of your priorities is staying at an all-inclusive resort, don't waste your time looking at resorts that don't offer the all-inclusive experience.
Bonus Pro Tip: If you're planning a destination wedding followed by your honeymoon at the same location, make sure the resort will fit the needs of your wedding group—number of people, budgets, special needs, kid-friendly versus adult-only. One of the most effective ways to choose a wedding AND honeymoon location is to visit it before you decide. Many resorts offer special "wedding tour" packages to encourage you to visit their resort hoping you will choose them for your destination wedding, and then stay for your honeymoon.
Get your travel requirements in order.
Make sure you are familiar with the travel requirements, restrictions, and travel documents needed for the honeymoon destination you choose. Most require a passport. Others require an additional travel visa. And some may still have some requirements concerning COVID (or other) vaccinations and pre-testing. This information can be found on the tourist board websites of each destination, or it can be provided to you by your travel advisor/honeymoon planner.
Bonus Pro Tip: If a passport is required for your destination, make sure it will still be valid up to 6 months after your return-home travel date.
Create a honeymoon gift registry.
This is where you pick out ALL THE FUN THINGS—the activities to do and experiences to have while on your honeymoon! It's a way for people to give you wedding gifts in the form of payments toward your room, and purchases of tours & excursions, spa treatments, etc. Many resorts offer honeymoon registries after your room is booked with them, and your honeymoon planner/travel agent can manage it for you. Or you can use an online honeymoon registry service like Honeyfund.com. So, start creating a registry of all the splurge-worthy things you'd like to do!
Consider opening a new credit card.
Hear me out on this one because it's a great way to cut down on your honeymoon costs…You're going to be spending money, so, now is the time to rack up those points and credits on a credit card that gives you something back! It varies by which card, but you could earn cash back, free airline tickets and/or travel miles to use toward your trip. Hey, if you're going to be charging your wedding expenses, you might as well earn some rewards to help you pay for your honeymoon, right?
Make a new bestie.
AKA: Consider enlisting the help of a honeymoon travel planner that specializes in the type of honeymoon trip you want to take. If you want to ensure that your honeymoon won't be a disappointment, as well as reduce the stress and frustration you may feel when trying to plan it all on your own, it could be worth it for you to invest in hiring a professional.  An experienced honeymoon travel planner knows how to take your honeymoon wish list and quickly narrow down honeymoon destinations and resorts that will be a perfect fit for you.  They'll also make sure you receive ALL the honeymoon amenities, upgrades and perks you might qualify for.
CHEERS to YOU!
A honeymoon is that wonderful time when the two of you finally get away after the craziness of planning your wedding day. It's a unique and special time for you both to relax, be pampered, have fun and just focus on each other. I hope these 9 tips I've shared will help set you up for successful (and less stressful) honeymoon planning.
If you feel like you could use a little more help with your plans, or if you want all of these tasks taken off your plate completely, then I encourage you to use this link to start an inquiry with me today about your honeymoon trip. I'd be honored to help you with your plans!
Chat soon,
Christine
About the Author: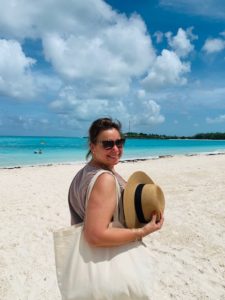 Christine Terezakis is the founder and owner of Dreamday Destinations. She has over 17 years of experience in the wedding and travel industry as an Accredited Master Wedding Planner, Destination Wedding Travel Advisor, Certified Sandals and Beaches Resorts Specialist, AM Resorts Master Agent, and Authorized Disney Cruise Planner. Christine combines her wealth of experience, passion for weddings, and love of travel to inspire, guide, and serve travel-lovers who enjoy the ease and luxury of all-inclusive resorts, and couples who are planning their dream destination weddings and romantic getaways throughout the Caribbean and Mexico.
FOLLOW US:
Instagram: @dreamdaydestinations
Facebook: Dreamday Destinations