If you have your heart set on a destination wedding, you may find that it's a bit overwhelming to figure out where to begin the process. With all of the options out there, the difficulty of deciding where to go for your dream wedding (and honeymoon) is understandable!
Ready to simplify your approach to getting the process started?
Here are 4 simple steps to uncover the best location for YOUR destination wedding:
Step 1: Create a vision
To help you better define what you are envisioning for your wedding day, first think about the overall style, aesthetic, and look that you want. For example: romantic, whimsical, boho-chic, vintage, beachy, edgy, glamorous, etc.
Then ask yourself what overall vibe or feeling you'd like your celebration to have. Will it be intimate, lively, laid-back, formal? The vibe of your destination wedding celebration should reflect who you are as a couple.
Next, think about what your vision is for your ceremony—the setting where you'll say, "I do." Is it at sunset on the beach? Is it in a garden? Are you on solid ground under a gazebo with the ocean as a backdrop, or are your feet in the sand directly on the beach?
And finally ask yourself, what is your vision for your reception setting? Maybe a rooftop terrace overlooking the ocean? On the beach surrounded by tiki torches? In a private ballroom?
Visualizing all of these factors will give you a better focus when searching locations.
Step 2: Decide on your non-negotiables
I encourage you both to write down your must-haves and priorities.
Some ideas…Perhaps a certain photographer and photography style is a must-have. Maybe you'd like to rent out an entire resort so you'll have ultimate privacy for your celebration. You might only consider an all-inclusive resort to make budgeting easy for your guests. You may want lots of options for hosting private group tours and activities with your guests. Or possibly you desire a specific island for enjoying your honeymoon once your guests have all returned home.
Thinking about the things that are most important to you both will allow you to create an experience that will give you both what you truly want.
Step 3: Define the type of experience your guests would enjoy
It's easy to just think about the wedding side of this celebration, but the vacation side of it is important too!  After all, you and your guests will likely spend more days experiencing this mini-vacay than celebrating your actual Big Day. So, as you consider locations for your destination wedding, consider your guests' needs and the overall vacation experience they'll have.
Think about what would make your destination wedding fun and memorable for them so they'll be excited to attend. Would they want lots of nightlife? Are modern rooms with 24-hour room service important? Do they want amazing beaches and pools? Are they parents who need kid's clubs so they can get away for some adult time? Would they expect gourmet food and top shelf liquor? Will they want to venture off-site to explore the destination?
The "personality" of every guest list is different, so, decide what would be important for YOUR guests in regard to their vacation experience.
Step 4: Agree on a budget
Once you have an idea of what you both want, and what your guests would enjoy, decide on a budget. Make sure your budget is realistic so that it will cover the details of your wedding vision as well as your non-negotiables.
Some good news about cutting wedding costs… your funds will go far when hosting a destination wedding at a resort, especially in the Caribbean or Mexico. While the number of guests will be a factor in the cost of your wedding, don't allow that to keep your guest list small if you want to invite a lot of people! When you host your destination wedding at a resort, you can earn lots of freebies (extra events, decor, amenities) and upgrades based on the number of rooms that are booked for your group. That will really expand your budget by getting you way more for your money.
Once you've taken these steps, you'll have more clarity on what you're looking for in a destination wedding location. And you won't be wasting your time or money on places that aren't a good fit for you. Ultimately, picking the ideal location is all about how you want to celebrate this beautiful new chapter in your life.
If you're just getting started, you might need a little extra help getting organized. Get my FREE Destination Wedding Starter Kit by clicking here. It's a free resource that will get you on the right track with your plans.
Still short on time and feeling overwhelmed at the thought of finding a location and planning your own destination wedding? As a Destination Wedding & Travel Specialist, I can help you. Schedule a complimentary call with me here. Let's start checking things off your destination wedding to-do list!
Happy planning,
Christine
About the Author: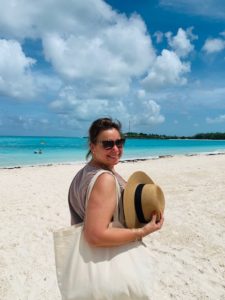 Christine Terezakis is the founder and owner of Dreamday Destinations. She has over 17 years of experience in the wedding and travel industry as an Accredited Master Wedding Planner, Destination Wedding Travel Advisor, Certified Sandals and Beaches Resorts Specialist, AM Resorts Master Agent, and Authorized Disney Cruise Planner. Christine combines her wealth of experience, passion for weddings, and love of travel to inspire, guide, and serve travel-lovers who enjoy the ease and luxury of all-inclusive resorts, and couples who are planning their dream destination weddings and romantic getaways throughout the Caribbean and Mexico.
FOLLOW US:
Instagram: @dreamdaydestinations
Facebook: Dreamday Destinations