There's truly no better gift than the gift of an experience. A trip can create memories that last infinitely longer than any sweater or tech item you put under the tree.
But gifting travel can come with its challenges. It takes planning and consideration. Here are my tried-and-true tips for gifting travel to family members and close friends.
Keep It Open Ended
If you want to surprise someone with a trip but you're not entirely sure what they'll like, keep it open-ended. Consider a gift card they can use towards a trip, or create a "voucher" that allows them to plan the trip with you after the idea is gifted.
Don't forget the little details
The elements of a trip are big and small from flights and accommodations, to treatments at the resort spa, excursions on a cruise, special dining reservations and more. When you're planning the trip, make sure you don't forget those thoughtful details that pull the trip together.
Make Sure You Know Costs
Are you just gifting flights and accommodations, or are you gifting all of the experiences and details that go along with the trip? Knowing what things cost will help you decide about this. Enlisting the help of a travel agent can be a huge relief in researching costs and finding you the best value and pricing for the trip.
Gift a token that represents the trip
Instead of planning the full trip, gift a token that represents the trip, like a map or guidebook of the destination, a passport holder and luggage tags, a stocking full of travel accessories, etc. Then you can plan the full details of the trip with the person you're gifting it to after the fact.
Keep it a secret
The internet has all sorts of ways it tracks information. When you're researching your trip, do it in an incognito browser tab to avoid target ads being shown to others in your home, tipping them off about the surprise. You can also delegate all of the research and planning to me to avoid discovery at all costs!
Ready to gift that memorable trip? Let's chat about how I can help you plan the ultimate surprise under the tree. Book a complimentary consultation call with me right here. You can also reach out to me with questions by emailing christine@dreamdaydestinations.com
Something worth mentioning…Gifting a trip is NOT just for Christmas. Perhaps you'd like to surprise someone with a trip for a special anniversary, an upcoming birthday, Valentine's Day, or a surprise marriage proposal. Start planning HERE. 
About the Author: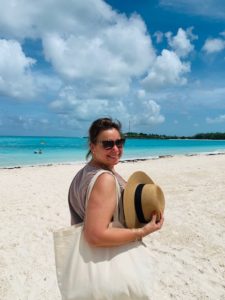 Christine Terezakis is the founder and owner of Dreamday Destinations. She has over 17 years of experience in the wedding and travel industry as an Accredited Master Wedding Planner, Destination Wedding Travel Advisor, Certified Sandals and Beaches Resorts Specialist, AM Resorts Master Agent, and Authorized Disney Cruise Planner. Christine combines her wealth of experience, passion for weddings, and love of travel to inspire, guide, and serve travel-lovers who enjoy the ease and luxury of all-inclusive resorts, and couples who are planning their dream destination weddings and romantic getaways throughout the Caribbean and Mexico.
FOLLOW US:
Instagram: @dreamdaydestinations
Facebook: Dreamday Destinations