If you're planning a destination wedding, this article is for YOU.  As a destination wedding planner, and Sandals/Beaches Resorts Specialist, I get a lot of questions about wedding etiquette when it comes to destination wedding plans.  Following wedding etiquette is tough enough, but destination weddings have their own set of rules, logistics, and added details to manage—who to invite, when to invite, how to communicate the details, who pays for what…Today I'm answering some of the most common questions I'm asked about destination wedding etiquette.  This guidance is fairly non-traditional, but hey, so is your upcoming wedding, right?
Where do we begin?
Start by creating a wedding website.  This will become your best friend when there is sensitive information to communicate such as the fact that your wedding might be an adult-only celebration.  It's also a convenience for your invited guests as a place for them to stay up-to-date about any wedding info they'll need to know.  Your wedding website can even be the place where you collect your RSVPs.
Should we send Save-the-dates, and when?
This is an absolute YES.  Save-the-date announcements will give people the heads-up that you are hosting your wedding at a destination, and will allow guests time to make plans for travel and time off from work.  Save-the-dates should include the date and location and link to your wedding website for more information.  Send these as soon as your wedding location plans are confirmed.  If possible, sending them 12 months in advance is ideal.
When do we send our formal wedding invitations?
Since you've sent a save-the-date, the invitation will be expected.  Invitations should be sent 8-12 weeks before your wedding. The emphasis should be on the invitation to your wedding and not the other info about the destination, travel info, etc.  Include your wedding website URL for people to refer to for those details.  If you will be hosting multiple events on multiple days at your destination, you can include a separate card inviting your guests to each additional event such as a beach party, dessert & cocktail welcome gathering, sunset catamaran cruise, etc.  It's a good idea to have a place for them to indicate which activities they'll be attending so that you'll get a head-count for planning.
What do we pay for as the wedding couple/wedding host?
You are only responsible for the costs associated with the ceremony and reception—food, beverage, decorations, entertainment, photography, etc.  Guests (including wedding party members) are expected to pay for their own travel, accommodations, and travel-related expenses.  You may opt to host (and pay for) additional events/activities over the course of the few days that your celebration takes place, but you are not required to do so.  However, it would be a nice gesture since your nearest and dearest have incurred the expenses of traveling to your wedding destination.  Be careful not to plan too many additional events and activities so that your guests can have some free time to enjoy their vacation and have some free time to explore on their own.  In addition to the rehearsal dinner/welcome gathering and wedding, hosting one other prearranged event or activity is a nice balance.
How do we let people know our wedding will be an adult-only celebration?
Invitations should only be addressed to those who are invited.  This etiquette is the same regardless of whether you're doing a local or destination wedding.  It isn't generally acceptable to include wording such as, "adult-only reception" on your invitation.  On the inner envelope, list exactly the names of the people who are invited.  If someone's name is not on the invitation, that indicates they are not invited.  The tricky part is when someone RSVPs and includes their child in their count.  That is when you'll have to give them a phone call to gently let them know that you are only inviting adults to your wedding.  This is great info to include on your wedding website to help you avoid this situation altogether.
Should we provide welcome gifts for our guests?
Keep in mind that people have traveled a distance, incurred the expense, and made a big effort to be with you for your destination wedding.  While welcome gifts are not a mandatory wedding requirement, it is a nice gesture of thanks and appreciation for your guests.  The best gifts are ones that can be enjoyed while on the trip such as a beach bag filled with fun items, local treats, and necessities such as sunscreen, snacks, reusable water bottle, playing cards, Koozies, T-shirts, hats…  Make sure the gift is something easy to pack in a suitcase for your guest's return travel home.
What is the etiquette for wedding gifts and gift registries?
When hosting a destination wedding, some couples opt to ask their guests not to give gifts.  This can be easily worded on your invitations and wedding website:  "The gift of your presences is gift enough." However, it is completely acceptable to set up a gift registry and to receive gifts.  If you decide to have a gift registry, be sure to include polite instructions for the gift to be mailed to your home instead of being brought to the destination (which most people wouldn't do anyway).  Another great option is to set up a registry where guests can gift money toward paying for your honeymoon travel, hotel, and related activities and excursions.
Should we book guest room blocks at more than one hotel location?
Honestly, a destination wedding celebration is more fun when everyone is staying at the same place.  (And it makes the planning easier for you!) When your guests come onto property for your wedding and related activities, but they aren't staying at that property, they typically will have to purchase a day pass which winds up being an additional expense for them.   If you're concerned about keeping costs down for your guests, choose a resort that has a good variety of room accommodations that will vary in price.  An all-inclusive resort brand like Sandals is a great choice because guests won't have to pay additionally for their food and beverages.  Booking everyone into a block at the same location will also increase the hotel/wedding perks you'll receive for the group booking!
I hope you'll find these tips helpful in getting you through the confusing and sometimes awkward situations that can pop up when planning your destination wedding.  If you haven't found your destination wedding location yet and feel like you might want some help, I'm here for you.  I can make your destination wedding planning easy.  Reach out to me today by clicking here.
And don't forget to grab your FREE GIFT:
Destination Wedding Planning Essential Starter Kit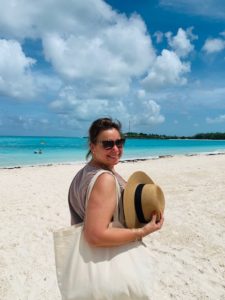 Christine Terezakis is the founder and owner of Dreamday Weddings and its sister website, Dreamday Travels.  She has over 15 years of experience in the wedding industry as a Wedding Planner and Certified Sandals and Beaches Resorts Specialist.  Christine combines her wealth of experience, passion for weddings, and love of travel to inspire, guide, and serve couples who are planning their dream weddings, and Caribbean destination weddings, honeymoons, and getaways.
FOLLOW US:
Instagram: @dreamdayweddingsfl
Facebook: Dreamday Travels
Facebook: Dreamday Weddings & Events / Dreamday Celebrations
Pinterest: Dreamday Weddings