Destination Weddings in Paradise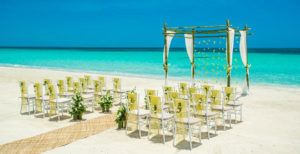 Is an escape to a Caribbean paradise your dream of a perfect wedding?  You may be considering a destination wedding for a number of reasons.  It may be that you want to celebrate your nuptials in a completely non-traditional way.  Or perhaps you'd love to combine a multi-day celebration and a fun vacation spent with your best friends and family.  Whatever your vision is for your dream wedding, hosting a destination wedding in the Caribbean is a memorable way to celebrate among the backdrop of soft sand beaches, tropical gardens, crystal blue waters, warm breezes, and stunning sunsets.
However, as you set out to plan your perfect destination wedding, does the idea of planning it from afar start to overwhelm you?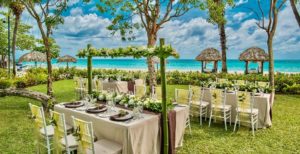 Does the sea of choices leave you wondering how you're going to pick the right location? 
Do you have the time and know-how to manage all of the logistics for your traveling guests?  Are you worried the resort wedding coordinator will give you the attention you'll need while they help all the other couples planning their weddings at the same location throughout the year?
With all of the options available, knowing who to trust, and figuring out how to plan the many details of a destination wedding, and managing travel plans for your guests on your own isn't easy.  But it can be much easier if you partner with the right Professional Wedding Planner & Travel Consultant to help you.
And that's where I come in.
My specialty is helping couples just like you plan and design their dream destination weddings, honeymoons, and getaways in the Caribbean's most beautiful locations exclusively at Sandals and Beaches Resorts.   Whether you envision an elaborate celebration, a casual beach wedding, or an intimate ceremony for two, you'll have my ongoing support and guidance throughout the process of planning and designing YOUR dream destination wedding.
So, if you're struggling to find your perfect location and plan your Caribbean destination wedding, my services might be just what you need.
SCHEDULE YOUR COMPLIMENTARY 30-MINUTE PHONE CONSULTATION.
Destination Wedding Planning Essential Starter Kit
It's our gift to you, and will help jump-start your destination wedding plans!