Weddings are starting to happen again, but for many couples, their wedding may be looking different from what they'd originally imagined. The pandemic has changed a lot of things—safety precautions, activity restrictions, available choices…and personal priorities.
For those who have postponed plans, and for those just beginning, engaged couples are embracing more intimate gatherings for their 2021 & 2022 weddings.  And because everyone has been cooped up for so long due to the COVID-19 pandemic, the Destination MICRO-Wedding has emerged.
*** This is a good place to mention that, if you're planning to do a Wedding Vow Renewal, the info shared here also applies to your type of celebration. It's just too big of a mouthful to say, "Destination MICRO-Vow Renewal Celebration!" ***
What IS a Destination MICRO-Wedding? It's a wedding that includes less than 30 people (think immediate family and the very best of your friends) and takes place in a location outside of the couple's hometown. Hosted at picturesque destinations, Destination MICRO-Weddings typically combine a group vacation with the celebration.
Here's why couples are embracing this idea, and why a Destination MICRO-Wedding (or a vow renewal) could be a perfect fit for you:
It can actually save you money. For starters, you'll be spending less on a smaller crowd. Currently for a U.S. wedding, the average guest count is 150, with an average wedding cost being nearly $30,000. Based on those averages, that's $200/guest. Hosting only 30 guests at that rate would bring the cost down to $6,000. But it gets better…there are destination resorts that offer wedding packages at very low per person prices (think less than $25/pp). What's even better? There are destination resorts that include your wedding for free with a minimum night stay.
A micro-sized wedding outside of the U.S. can be a better fit in regard to safety due to the strict health-safety protocols & requirements being implemented at destination resorts. For example, a ceremony location that normally accommodates 75 people might now only be allowed to hold half that number due to physical distancing rules. The smaller group also opens up possibilities for unique location options on resort that might not otherwise be feasible for a large group such an over-water deck, a rooftop, or a beautiful courtyard. It's also worth mentioning that cleanliness standards and procedures to protect guests and staff are at an all-time high.
It's less work and less stressful. To start, you won't need a lot of lead time for your planning because there is less to plan, and less people to plan for. A Travel Specialist can handle the intricacies of your guest travel bookings. Destination resorts typically provide all of the necessary wedding vendors, therefore, you won't have to spend time scouting them out. Your options for food, beverage, and décor will be streamlined for easier decision-making. And the post-ceremony celebration can be kept as simple as a cocktail party or intimate dinner, without dance music to pre-select and traditional formalities and reception activities to plan.
Your celebration can be highly curated if that's more your style. The curation begins the moment you decide to host an unconventional wedding away with an intimate group of people. By having a small number of guests, you can invest more in the customized details such as thoughtful favors and gifts, extra decor, live entertainment, and group events/activities with your guests throughout the week. These will enhance your celebration, making the experience even more unique, personal, and memorable for everyone.
You and your guests will get the best of TWO worlds. Not only will your guests get a chance to celebrate your wedding with you, they'll also get a chance to go on vacation! (Bonus points if your wedding is at a destination resort where guest meals, drinks, and activities are all included.) For you…your wedding will last a few days rather than just a few hours. And once your guests head home, the two of you will already be in place to start your honeymoon.
If the thought of doing a Destination MICRO-Wedding seems overwhelming to you, then reach out to us with your questions, or to enlist some help.  We specialize in destination weddings and vacation planning at luxury all-inclusive resorts in the Caribbean.
When you book your vacation with us at Dreamday Destinations, you'll receive our concierge vacation planning services at no charge.
Let's get your plans started!
Related Articles:
"What Caribbean Travel and Vacationing Looks Like Right Now:
"Traveling to Jamaica, Sandals, and COVID"
About the Author:
Christine Terezakis is the founder and owner of Dreamday Weddings and Dreamday Destinations. She has over 15 years of experience in the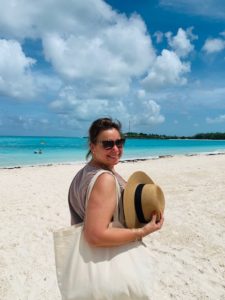 wedding industry as an Accredited Master Wedding Planner and Certified Sandals and Beaches Resorts Specialist. Christine combines her wealth of experience, passion for weddings, and love of travel to inspire, guide, and serve travel-lovers who enjoy the ease and luxury of all-inclusive resorts, and couples who are planning their dream weddings, and Caribbean destination weddings and romantic getaways.
FOLLOW US:
Instagram: @dreamdaydestinations
Facebook: Dreamday Destinations
Facebook: Dreamday Weddings & Events / Dreamday Celebrations
Pinterest: Dreamday Weddings | Dreamday Destinations