You might not be comfortable with traveling yet, and that's okay.  Dreaming of future travel is the norm for most people during this unprecedented time of COVID-19.  But now that Caribbean destinations are re-opening, I've had a lot of people asking me about travel-health-safety.
So, what did I do?  I decided to see for myself! 
I traveled to Jamaica, stayed at Sandals, and got a genuine feel for what travel (and vacationing) is currently like.
By the way…Hello!  I'm Christine—a travel professional and wedding planner with a specialty for planning romantic getaways and destination weddings in the Caribbean since 2005.  I recently traveled to Jamaica (at the end of October 2020), and I'm sharing my trip experience with you so you'll know what you can expect if you decide to travel to Jamaica and stay at Sandals anytime soon.
Prior to Jamaica travel
Passport is required. Make sure yours is up-to-date and valid for at least 6 months beyond your travel dates
COVID test with negative result is required within 10 days prior to travel
Jamaica requires a Travel Authorization. Find out more and apply here:  https://www.visitjamaica.com/travelauthorization/
What to expect in airports and on the plane
The airports, which are typically bustling with crowds, were not crowed at all
Face masks are required to be worn throughout the airport AND for the duration of your flight unless you're eating/drinking
Hand sanitizer dispensers were located throughout the airports at departure (Miami) and arrival (Montego Bay)
There were floor markers at both airports indicating safe distance measurements
If you download your airline app…some airlines will notify you when your plane has completed its cleaning/sanitization and ready for you to board
There was no food or beverage service on the plane. Some airlines provide individual hand sanitizer, snacks and a water bottle pre-packaged and sealed in a plastic bag.  (Ours did not on this trip, so, I recommend you bring your own.)
The AC on the plane ran constant and cold. (Keep your air vent open to circulate the air because the air on the plane gets filtered more quickly and efficiently that way.)
The airline we flew (American) was no longer keeping the middle seats empty
Each person is given an immigration form to fill out on the plane (you hand it in at the airport when you arrive at your destination)
When you arrive in Jamaica
Upon arrival at the airport in Montego Bay (Sangster International), we had a temperature check
There was a checkpoint for mandatory health screening. This is where paperwork for your travel authorization and COVID test results were reviewed.
You then move to an area to collect your luggage which has been set out for you by airport personnel
You go to the immigrations line where you turn in your immigration form (that you filled out on the plane), then your passport is checked and stamped
You proceed to your hotel's arrival lounge (if they provide one) to await transportation to your hotel. If you are using Club Mobay arrival services (Jamaica only), they also have their own arrival lounge.  We relaxed in the Sandals arrival lounge which, in my opinion, was the nicest arrival lounge at the airport.
*** Vacation begins at the Sandals arrival lounge at the airport.  They tag your luggage and handle it from there.  Staff (and guests) wore face masks.  Guests were escorted to seating that was safely distanced from other guests.  Snacks and beverages were served instead of the usual self-serve.  Food was individually wrapped & packaged.  You are then escorted to your complimentary shuttle, and driven to the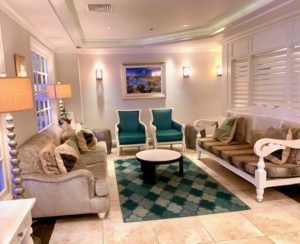 resort.
Drivers and guests work masks for duration of the drive to resort
Sandals safety protocol while you're on resort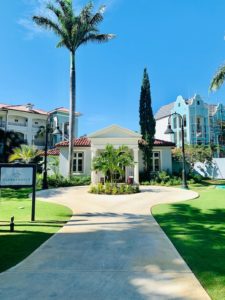 Upon your arrival at resort:
All resort staff members wear face masks at all times
Upon arrival at the resort, your temperature will be checked
You will be given chilled towels to refresh your face and hands
Hand sanitizer is at every entrance. You are greeted at doors and kindly reminded to use the hand sanitizer before entering any room or building
You are escorted to the lobby or to your dedicated lounge (Club & Butler guests) for check-in, and seated safely distanced from other guests who may be in the room
Prior to arriving, and during your stay, your suite will be cleaned and sanitized according to Sandals Platinum Protocol of cleanliness which includes:

Air ducts are sanitized before each arrival
Carpets are sanitized daily, steam cleaned weekly
Soft furnishings are washed and steam cleaned
All hard surfaces, handles, switches, electronics, TVs, remotes, phones are cleaned and disinfected
In-room bar, refrigerator, coffee & tea station, microwave is cleaned and disinfected
Bed frame and furniture is cleaned and disinfected daily
Bed linens are changed and laundered daily; mattress & pillow protectors are used
Tubs, showers, toilets, faucets, all bathroom hard surfaces are cleaned and disinfected
Bathroom floors swept and steam cleaned daily; electrical aerosol sprayers are used for advanced cleaning
UV-LED light is used to validate cleanliness

When you first arrive at your suite, there is a seal on the door that you will break to enter the room. This is to show that you are the first one inside since it was cleaned.
Hand sanitizer is provided in all guest rooms; amenities such as shampoo, conditioner, body lotion, and soap are provided in individual containers (no dispensers in showers)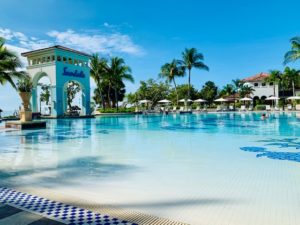 During your stay:
Hand sanitizer dispensers are conveniently placed throughout the resort
There are a lot of open-air dining, seating, and lounge areas keeping you outside where fresh air circulates (Guests are not required to wear face masks, however, some guests wore them while indoors.)
You are asked to make dining reservations (usually not required at Sandals). This is to control the number of people at a restaurant at any given time for safe distancing.
Guests are required to use hand sanitizer before entering restaurants
Digital codes are available to view menus on your smart device instead of handling menus
There were reminders in all public bathrooms to wash hands
There were markers on the indoor floors to mark safe distancing
Tables at restaurants, and lounge chairs outdoors were reduced in quantity, and separated by at least 6 feet
There was no self-serve food or beverage service. Servers handled the food for you at buffets (and even toasted your bread at the toaster).  At buffets, shields were mounted over food, portions were placed on small individual plates instead of on large platters and bowls.  Condiments were in packets instead of large bottles. Silverware was pre-wrapped in napkins for individual use.
Strict cleanliness protocols were also in place at the spa and gym, which were both open and providing services. (The sauna and steam room were not made available.  Hot tubs were also not made available at this time.)
Select tours and excursions were open on the island and could be arranged by your travel agent prior to arrival or once you're on property through Island Routes
Protocol for Jamaica departure and U.S. arrival
There was no departure fee when we left Jamaica
Airport safety measures in Jamaica included safe distance markers on the floors, face masks required except while eating/drinking, hand sanitizer dispensers easily accessible
Club Mobay departure service (which we purchased) had a limit on the number of people allowed in per day. Bathroom stalls were cleaned after each use.  Food & beverage was served.  No counter service or buffets.  Hand sanitizer dispensers were easily accessed.  You were required to use the hand sanitizer upon entry.
Temperature was not taken at the airport
There was no health questionnaire or health screening required for departure
Upon arrival to the U.S. (Miami), no temperature check or health screening
Face masks were required, safe distance markers were on the floor, and hand sanitizer dispensers were readily available. The airport was uncrowded, so, getting through customs was quick.  The time it took from exiting the plane, clearing customs, and walking out to our car was about 25 minutes.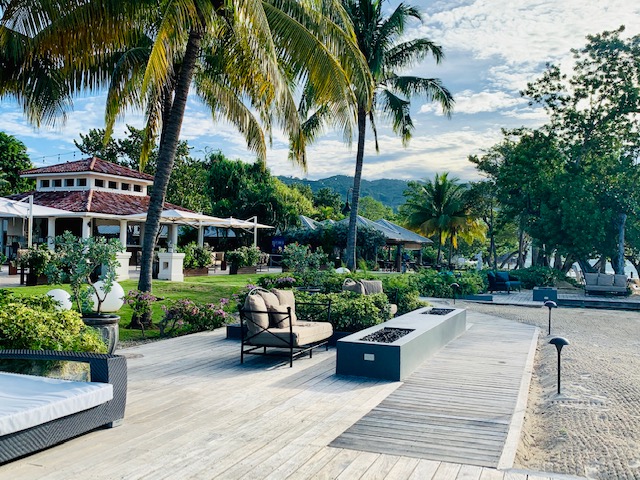 Thoughts about our overall experience
We truly felt safe traveling to Jamaica and staying at a Sandals Resort. The people of Jamaica were definitely ready to get back to work, and it was evident in the kind welcome and hospitality they showed us while we were there.  The travel requirements for Jamaica, and the airport/airline safety rules, gave us a certain confidence knowing that everyone traveling around us had just tested negative for COVID.  Health-safety precautions were clearly outlined and enforced everywhere, which benefits everyone.
Sandals did an outstanding job of keeping their guests and staff safe.  While Sandals properties have always proven to be very clean, the cleanliness standard they now exhibit exceeds my expectations.
We stayed at Sandals South Coast, and while we were there, the property was only at about 35% occupancy which was REALLY nice for us as guests.  We could always find our choice
of available lounge chair at the beach or pool.  Restaurants were uncrowded.  (In fact, we had one restaurant all to ourselves at the end of one evening!) Staff was extremely attentive.  And the price is right since Sandals continues to run specials to entice people to return to travel.
Guests were pleasant and mindful of the rules that Sandals had in place.  Everyone respected each other's space and social distance.  It was unusual to be at a Sandals with so few other people there, but it made the experience an extremely private and relaxing one.  We truly enjoyed every moment we were there, and we'd do it again at this time in a heartbeat.
(To see photos & video from my trip, follow us on Instagram @dreamdaydestinations and check out the highlight "Sandals S Coast.")
As a travel professional, my role is not only to match you with the best destination for the vacation experience you're looking for, but also to address your concerns, answer your questions, provide info about the resorts, and keep you informed about the current travel climate and guidelines due to COVID.  This is a responsibility I don't take lightly.  As my travel client, your vacation is important to me. So, if you have any questions, or if you'd like a vacation quote for any of the Sandals or Beaches all-inclusive resorts, please feel free to reach out to me here. I'm grateful to have the opportunity to serve you!
Happy travels,
Christine
………………………………………………………………………………………………………………..
Christine Terezakis is the founder and owner of Dreamday Weddings and Dreamday Destinations. She has over 15 years of experience in the wedding industry as an Accredited Master Wedding Planner and Certified Sandals and Beaches Resorts Specialist. Christine combines her wealth of experience, passion for weddings, and love of travel to inspire, guide, and serve travel-lovers who enjoy the ease and luxury of all-inclusive resorts, and couples who are planning their dream weddings, and Caribbean destination weddings and romantic getaways.
FOLLOW US:
Instagram: @dreamdaydestinations
Facebook: Dreamday Destinations
Facebook: Dreamday Weddings & Events / Dreamday Celebrations
Pinterest: Dreamday Weddings | Dreamday Destinations