What does Caribbean travel and vacationing look like right now? Well, I've been lucky to travel to Jamaica and to St. Lucia in the past 3 months, and I can honestly say that, even with the added travel requirements due to COVID, my trips have been quite enjoyable during this time.
Did I have to take a COVID test? Yes
Were there additional forms/authorizations needed? Yes
Was it difficult to get these requirements done? No
Did I feel safe traveling to (and being at) my destinations? Yes
Here is my opinion and recent firsthand experience…
Health safety protocols are at an all-time high at airports, on planes, on the islands and at the resorts. And with the stricter restrictions the islands have placed on travelers (and on their communities, businesses, and hotels) I actually feel safer going there rather than anywhere here in the US. (I can say this because I've also traveled within the US during the past 6 months—flown, rented cars, and stayed at hotels.)
Being on resort at this time is so nice because they aren't at full capacity. You may even feel like you have the place to yourself! That means there's always a primo chair at the pool or beach, restaurants and bars aren't crowded, and the staff is extra attentive because there are less people to serve. In fact, the photo in this post is from my stay at Sandals Grande St. Lucian.  Notice how empty the lounge chairs are?
Tourism has been hit hard this past year, and the people of the islands have been out of work. The staffs have really missed their guests, and they're excited to be welcoming you back to their resorts again. And it shows! I've found that they spoil you rotten while you're there.
What feels different is that the atmosphere is a little quieter, which makes for an extra relaxing vacation.  But it's definitely not without excitement and fun things to do when you want to. You might find some amenities temporarily closed for your safety such as steam rooms and saunas, transfer between/use of the nearby Sandals resorts is currently not allowed, and there are not as many excursions open at this time. All activities and entertainment are done outdoors instead of in theaters and clubs, and most of the dining options are in open-air settings at the resorts—which I love because the weather and scenery are incredible.
Also different is the most recent update in COVID travel restrictions that, starting January 26, 2021, all air passengers arriving to the United States are required to have a proof of negative COVID-19 test OR proof of recovery from COVID-19. Those travelers will need to be tested no more than 3 days (72 hours) before traveling by air into the US. I happened to travel 2 days before this rule went into effect, but I did confirm that Sandals and Beaches resorts will be providing free required COVID testing to their guests on property within the 72-hour travel window.
This may sound strange to think about, but it's actually a great time to book your vacation, even if for the future. Resorts and airlines have been running great deals and free add-ons as incentives for you to return. Another big advantage to booking from now is that we can lock in your rates all the way into 2023 for a Sandals or Beaches vacation. PLUS, change/cancellation policies are very flexible so you can be even more confident in booking your future vacation.
Booking your trip through a knowledgeable travel specialist well-versed in the resorts and Caribbean travel right now (that's me) will give you peace-of-mind, keep you updated on important info, and make your vacation planning easy.  I always keep our clients (hopefully that's YOU) up to date on the travel requirements for the destination they'll be traveling to.
If you're comfortable with either traveling soon OR booking for the future, reach out to me today for your quote here. As always, my booking & vacation planning services are free when you book through us at Dreamday Destinations. I'd love to help you with plans to take your next vacation!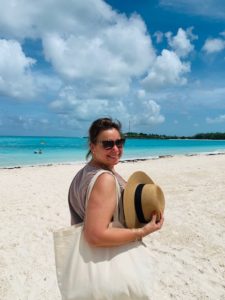 Christine Terezakis is the founder and owner of Dreamday Weddings and Dreamday Destinations. She has over 15 years of experience in the wedding industry as an Accredited Master Wedding Planner and Certified Sandals and Beaches Resorts Specialist. Christine combines her wealth of experience, passion for weddings, and love of travel to inspire, guide, and serve travel-lovers who enjoy the ease and luxury of all-inclusive resorts, and couples who are planning their dream weddings, and Caribbean destination weddings and romantic getaways.
FOLLOW US:
Instagram: @dreamdaydestinations
Facebook: Dreamday Destinations
Facebook: Dreamday Weddings & Events / Dreamday Celebrations
Pinterest: Dreamday Weddings | Dreamday Destinations