Luxury and Club and Butler, "oh my!" Once you've decided which Sandals Resort to go to for your romantic getaway, the next decision will be which room category to stay in. There are many tempting accommodations at each Sandals, and depending on the resort, there can be as many as 10 to 30 different room category types to choose from. Those room categories are further broken down into one of three main category levels—Luxury Level, Club Level or Butler Level. Not knowing the difference can make your decision a tough one, but today I'm breaking down these category levels to make choosing a lot easier.
So how do you choose? There are quite a few factors to consider such as what your vacation budget is, what you're celebrating, what in-room amenities you'd enjoy most, how important a certain type of view is, and most importantly what type of overall vacation experience you wish to have.
Before looking at the three main category levels, keep in mind that Sandals Resorts are all-inclusive which means that, regardless of which room category you stay in, you'll be able to enjoy all of the inclusions, activities, and areas of the resort that all guests have access to. All guests receive the benefits of unlimited food & beverage (including alcohol), free land & water sports/scuba & snorkeling (including equipment), daily entertainment, pools, beaches, use of the state-of-the-art fitness center, and roundtrip airport transfers on the island.
Let's have a look at what ALL Sandals room categories include: a refrigerator stocked with water/soda/juice/beer/wine, coffee maker, TV, hair dryer, electronic safe, iron & ironing board, body & bath products, luxurious furnishings, free Wi-Fi, and daily housekeeping. The difference between category levels is in the extra details: additional services included, room location, views, privacy, room size & layout, additional in-room amenities, and dedicated lounges and staff for Club and Butler Level guests.
Now let's dive in and explore each category level to see which is the best fit for you on your next vacation!
Luxury Level (AKA: Sandals Luxury)
This is the entry level room category at Sandals. These accommodations will include everything listed above, and will be the least expensive rooms on property. Check-in and guest services will be found in the main lobby. Depending on the resort, some Luxury rooms may have a window instead of a balcony or patio, and they typically have a garden view—with the exception of Sandals South Coast where the rooms (except in the NEW Swim-up Rondoval Butler Village) all face the ocean. Room service is not offered in this category level.  Currently there are three Sandals Resorts that do not offer Luxury Level rooms–Sandals Royal Barbados and Sandals Emerald Bay which offer only Club & Butler Level, and Sandals Royal Plantation which offers Butler Level accommodations only.
Club Level 
This is the concierge room category at Sandals. In addition to all of the amenities previously listed, there are additional perks to staying in Club Level.  Rooms include all-day room service (typically until 10pm at most locations), cozy robes, in-room premium liquor, upgraded views, and enhanced features such as modern furnishings, spa-style bathrooms and/or tranquility soaking tubs for two. One unique perk, if you're a Club Elite guest staying at Sandals Montego Bay or Sandals Royal Caribbean in a top tier Club Level suite, is that you'll receive private BMW roundtrip airport transfers.
Upon arrival at the resort as a Club Level guest, you will be greeted by the Club Sandals Concierge and checked in at the private Club Sandals Lounge. The Club Sandals Concierge team will serve as your direct contact throughout your stay for any assistance you might need including, but not limited to, resort tours, booking of dinner reservations/on-site services/last-minute excursions, and express check-out. As a Club Level guest, you will have 24-hour access to the Club Sandals Lounge which has snacks, a coffee & tea station, alcoholic beverages, a big screen TV, books, comfy seating, board games, menus for all of the resort restaurants, and daily world newspapers. From 7am until 10pm each day, you'll find your Club Sandals Concierge team at the Club Sandals Lounge ready to assist you. There are also special events and activities offered exclusively for Club Level guests.
Butler Level (AKA: Butler Elite and Love Nest Luxury Suites)
This is the 'WOW' category level at Sandals, both in accommodations and in the highly personalized service you'll receive.
Let's start with airport transfers. While airport transfers are included for all guests, Butler Level guests receive private luxury car transfers at several Sandals locations as follows: Butler Elite guests at Sandals Montego Bay and Sandals Royal Caribbean, and Over-Water Bungalow guests at Sandals South Coast, all receive private BMW roundtrip airport transfers. Guests staying in top tier Butler suites at Sandals Royal Bahamian and Sandals Royal Barbados receive private roundtrip airport transfers in either a Mercedes-Benz or Rolls-Royce.
(Pop the champagne!)
Butler Level guests are checked-in privately in their room, and stay in premium accommodations that have the most space, the best views, and are appointed with ultra-luxurious furnishings and amenities. (Imagine private plunge pools, spa bathrooms with rain showers, over-water hammocks, spacious living areas & lounging decks, outdoor tubs for two, glass floor in your bedroom over the water so you can view the sea life below…) Butler category rooms are romantic sanctuaries in their own right, and range from Swim-up Suites to—Sky-Pool Suites to —Rondovals/Romeo & Juliet/and Millionaire Suites with private pool sanctuaries to— breathtaking Over-Water Bungalows & Villas. ALL are assigned personal Butlers who are on call all day and all night for every request. (FYI: They do not stand at attention in your room. You'll receive a dedicated mobile phone to call them for whatever you need.)
In addition to all of the amenities that are included in Luxury and Club Level rooms, Butler Level rooms are also stocked with your pre-selected requests of favorite beverages, snacks and comforts. More than that, your Butler will pamper you throughout your entire stay. Some examples of things they can do include, but are not limited to: unpack for you, arrange something special for whatever you're celebrating, make dining reservations (and get you the best tables in the restaurants), book spa appointments & excursions, have treats waiting for you when you return from a day out, reserve your lounge chairs at the beach and pool, serve you breakfast in bed or dinner on your private patio, bring you drinks at the pool or beach, draw a relaxing bubble bath for you, escort you (sometimes by golf cart) to dinner/events/excursion meet-ups/anywhere on property, and so much more. Best of all, they'll go out of their way to surprise and delight you to make sure your stay is exceptional.
The room you choose will have a big impact on your Sandals vacation. That's why I recommend that you pick what will give you the vacation experience you're looking for. For example, if you plan not to spend much time in your room and just want to stay on a beautiful Sandals property to enjoy all of the inclusions, then you'll likely be happy with a Luxury Level room. If you're celebrating a once-in-a-lifetime honeymoon or a special anniversary and want nothing but the best, then a Butler Level room would be the choice for you. If you have luxury taste but are more comfortable with a moderate price point, then a Club Level room would be a great fit for you. And if you still feel overwhelmed with all of the choices, I'm here to help.
Matching you with the perfect Sandals Resort and the perfect room for the type of getaway you'd love is my specialty. I've stayed in all three category levels of rooms at all of the resorts (multiple times) and can help you with the process of choosing which is the best fit for you and the vacation experience you wish to have.
As a Sandals Specialist, the firsthand knowledge I have of each resort makes it possible for me to guide you about where the rooms are located on property, what the views are, how close they are to the hub of activity, what the pricing is (and what sales are going on!), and anything else that is important to you.
Allow me to make your vacation plans as seamless as possible…
Click here to request your complimentary quote today.
About the Author:
Christine Terezakis is the founder and owner of Dreamday Weddings and Dreamday Destinations. She has over 15 years of experience in the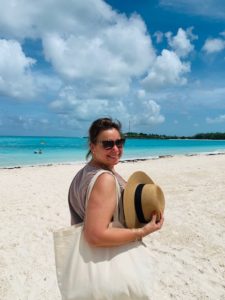 wedding and travel industry as an Accredited Master Wedding Planner, Destination Wedding Planner and Certified Sandals and Beaches Resorts Specialist. Christine combines her wealth of experience, passion for weddings, and love of travel to inspire, guide, and serve travel-lovers who enjoy the ease and luxury of all-inclusive resorts, and couples who are planning their dream weddings, and Caribbean destination weddings and romantic getaways.
FOLLOW US:
Instagram: @dreamdaydestinations
Facebook: Dreamday Destinations
Facebook: Dreamday Weddings & Events / Dreamday Celebrations
Pinterest: Dreamday Weddings | Dreamday Destinations