If you're thinking about planning a future vacation now that the world is starting to re-open, an all-inclusive resort vacation could be the ideal choice for you. Maybe you're wondering what all-inclusive really includes and who this type of vacation is best suited for.  Read on because today I'm sharing those answers PLUS the Top 5 Benefits of an All-Inclusive Vacation.
To start, let's answer some of those questions you might already have.
Who best is an all-inclusive vacation for?
I can tell you from experience that an all-inclusive vacation at the right destination is a great fit for couples wanting a romantic getaway, families needing to reconnect, and groups of friends looking to have some fun together—especially after being separated for months on end due to social distancing. They're also a great fit for those planning a destination wedding or celebrating a wedding anniversary with a vow renewal celebration because many all-inclusive resorts offer them for free when you book a minimum-night stay.
What does all-inclusive really mean?
True all-inclusive resorts, such as Sandals and Beaches, charge one flat rate that covers your room, all meals and snacks, unlimited drinks, amenities, entertainment, activities, airport transfers on the island, taxes, and gratuities.  Keep in mind that some all-inclusive brands do not include tips or airport transfers, and there may be charges to dine at their more upgraded restaurants. You'll need to be aware of what is included at the locations you're considering. Your Travel Specialist/Travel Agent can be a big help with informing you about these nitty-gritty details.
What's not included?
There are some costs that are not typically included such as phone calls, gift shop purchases, professional photographs, spa treatments, off-site excursions, private airport transfers, airfare, departure taxes (if applicable). But there are times when some of these items might be included as part of a special package or vacation bundle.
When choosing your all-inclusive vacation, its important that what's included matches your idea of the perfect getaway. After all, a vacation should be fun, relaxing, and stress free! Which leads me to…
The Top 5 Benefits of an All-Inclusive Vacation:
#1: It's easy to stick to a budget and save money.  Since everything at your resort is included, you'll know in advance what your vacation will cost.  You won't have to add food & beverage expenses which can add up on vacation when you're paying for 3 meals + snacks + bar tabs each day. Instead of paying for off-site activities and excursions, you can choose to stay on property and take advantage of all the included amenities, gorgeous pools and beaches, and activities. For example, Sandals/Beaches includes scuba diving and outings (including equipment), and golf green fees where available. Otherwise, a two-tank scuba dive costs on average pp $100+, and $159++ pp for green fees in the Caribbean.  According to TheKnot.com, all-inclusive rates can actually take up to 25% off the cost of a vacation.
#2: You'll get the unique freedom of a cash-free experience.  There is something so relaxing about dining at a restaurant, or ordering a drink from a bar (or getting a freshly made brick-oven pizza!) and NOT having to take out your wallet to pay for it because it's already paid for. There are no prices listed on menus, and you can order as much as you like. There are no rental fees for the water sports equipment such as paddle-boards, kayaks and sailboats.  And when a server delivers your drink by the pool, you won't be digging through your beach bag for a tip because gratuities are already included.
#3: You won't get bored, and you can try something new.  Complimentary activities allow you to be adventurous, or to just relax. Activities vary by resort, but some examples of things you might find at an all-inclusive resort are water parks, stunning pools, swim-up bars, beach cabanas, hammocks, game rooms, craft sessions, food & beverage tastings, interactive games, themed parties, sports instruction, fitness/wellness classes, land sports such as tennis, volleyball, pickleball, pool/billiard tables, water sports equipment for sailing, kayaking, paddle boarding, windsurfing, and scuba & snorkel outings.
#4: You can experience a variety of dining options.  All-inclusive resorts typically offer quite a few choices of restaurants, bars, and snack spots.  This makes it easy for you to try different cuisines from around the world, and choose to dine in whatever atmosphere you're in the mood for.  Some resorts allow you to partake in resort privileges and dining at their neighboring locations, which expands the options for your dining experiences. And don't forget to enjoy some in-room dining if it is included at your resort with your level of accommodation.  Imagine how romantic it would be to enjoy mimosas and breakfast on your balcony overlooking the ocean!
#5: There's something for everyone.  There are so many things to see, do, and enjoy at an all-inclusive resort no matter your age or what the occasion is for your vacation. Resorts for adults/couples-only will cater to privacy and romance with amenities like tubs-for-two, luxuriously appointed rooms, entertainment and activities geared toward couples.  Family-friendly resorts will give people of all ages the opportunity to spend quality time together as well as options to go off on their own.  There will be childcare and kids-only/teens-only activities and clubs, and there will also be adult-only options for dining and activities. (By the way—Kids get a much-discounted rate for the same all-inclusive privileges.). Whether you're on a honeymoon, or part of a wedding group, or on a family vacation with kids, staying at an all-inclusive resort makes things so easy because everything you need for the perfect getaway is conveniently available in one place.
Helping you choose the perfect all-inclusive resort for your getaway is my specialty.  I'm a Sandals Resorts and Beaches Resorts-focused Travel Agent who has stayed at the resorts multiple times, and I'd love to guide you through the process of planning your dream vacation. When you book your vacation with Dreamday Destinations, you automatically qualify for our FREE vacation planning services.
Would you like to take a closer peek at the islands and resort destinations?  Click here.
Click here to request your complimentary quote today.
Happy Travels!
Christine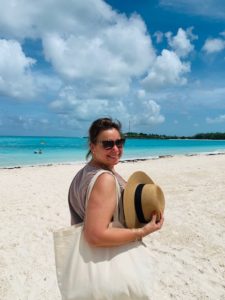 Christine Terezakis is the founder and owner of Dreamday Weddings and Dreamday Destinations. She has over 15 years of experience in the wedding industry as an Accredited Master Wedding Planner and Certified Sandals and Beaches Resorts Specialist. Christine combines her wealth of experience, passion for weddings, and love of travel to inspire, guide, and serve travel-lovers who enjoy the ease and luxury of all-inclusive resorts, and couples who are planning their dream weddings, and Caribbean destination weddings and romantic getaways.
FOLLOW US:
Instagram: @dreamdaydestinations
Facebook: Dreamday Destinations
Facebook: Dreamday Weddings & Events / Dreamday Celebrations
Pinterest: Dreamday Weddings | Dreamday Destinations