Are you craving a Caribbean beach vacation right about now?  I know I am!  It's been many months since traveling was put on hold due to the COVID-19 pandemic. But there's good news for all of you island-loving-sun-chasers out there…The Caribbean island nations have begun to re-open.
Since luxury all-inclusive Sandals and Beaches Resorts are my travel specialty, today I'll be focusing on their 7 Caribbean destinations: Antigua, Bahamas, Barbados, Grenada, Jamaica, Saint Lucia, and Turks & Caicos.
So, which Sandals and Beaches Resorts are now open?  What are the reopening dates for the near future?  And what are the travel protocols for each island where the resorts are located? To help you sort through the information you need, I'm breaking down what to expect at each destination right here.
Read on for what you should know before you travel from the U.S. to the Caribbean.

Sandals & Beaches Resorts Re-Opening Dates, by Island:
(Resort reopening information last updated on 1/07/21.)  Please note that we will update resort reopening dates as they are announced by Sandals and Beaches Resorts. Reopening dates are subject to change and are at the discretion of each resort and with regard to current government rules and regulations.  We recommend that, prior to travel, you check the tourist board of the island you are traveling to for the most current updates, guidelines, protocols, and information.  For any questions or assistance with booking your Sandals or Beaches vacation , please reach out to us here.  When you book your vacation with Dreamday Destinations, we will keep you updated about information pertaining to your travel destination.
ANTIGUA:
Sandals Grande Antigua—June 4th —NOW OPEN
BAHAMAS:
Sandals Royal Bahamian—January 28, 2021
Sandals Emerald Bay—February 1, 2021
BARBADOS:
Sandals Royal Barbados—September 9th — NOW OPEN 
Sandals Barbados—September 9th — NOW OPEN 
GRENADA:
Sandals Grenada—February 3, 2021
JAMAICA:
Sandals Montego Bay—June 16th—NOW OPEN
Beaches Negril—June 16th—NOW OPEN
Sandals Royal Caribbean—July 2nd—NOW OPEN
Sandals Negril—July 9th—NOW OPEN
Sandals Ochi—February 3, 2021
Sandals South Coast—October 1st—NOW OPEN
Beaches Ocho Rios—March 4, 2021
Sandals Royal Plantation—October 8th—NOW OPEN
SAINT LUCIA:
Sandals Grande St. Lucian—July 7th—NOW OPEN
Sandals Regency La Toc—August 31st—NOW OPEN
Sandals Halcyon—February 3, 2021
TURKS & CAICOS:
Beaches Turks & Caicos—NOW OPEN

What the resorts are doing to keep you healthy and safe:
Sandals and Beaches Resorts have always upheld the highest standards of cleanliness and safety protocols. But especially now, their practices are being enhanced to include several pre-emptive cleanliness measures.  Sandals and Beaches has now implemented their Platinum Protocols of Cleanliness–— additional protocols and guaranteed cleanliness standards to ensure heightened health and safety measures so guests will have the peace of mind that will allow them to enjoy their vacation. These protocols start as soon as you arrive at the Sandals or Beaches private airport lounge, and continue with your private airport transfers and then throughout your stay on property.
Here are just a few things you can expect: Check-in can be done online before you arrive so that you can avoid the front desk and go directly to your room when it's ready.  Guests' temperatures will be checked upon arrival to the resort as a precautionary measure. Physical distancing is easily accomplished on property due to the large amount of open-air spaces for activities, dining, and time spent on beaches, by the pools, and at the bars.  Your room is sanitized daily and then door-sealed for your re-entry.  Staff members wear facemasks at all times.  Hand sanitizer is readily available.  And so much more! The resort health and safety protocols are extensive, so, be sure to check out the full details here.

What you need to know before you travel: Protocols & Requirements, by Island:
PLEASE NOTE: We recommend that, prior to travel, you check the tourist board of the island you are traveling to for the most current updates, guidelines, protocols, and information which are all subject to change.  For any questions or assistance with booking your Sandals or Beaches vacation , please reach out to us here.  When you book your vacation with Dreamday Destinations, we will keep you updated about information pertaining to your travel destination.
ANTIGUA:
Travelers to Antigua and Barbuda must provide a certificate of a negative COVID-19 test result.  The test must be taken within seven days of arrival. If arriving travelers do not provide a negative test result, the government can require travelers to quarantine or to be tested.
Travelers have two options when it comes to mandatory coronavirus testing: you can pay $100 for a test at the airport upon arrival and then quarantine in your hotel for approximately 24 hours until getting the results; or you can quarantine at your hotel for the first 14 days of your stay. Temperatures checks will be taken at the airport. You will have to wear a mask in all public places and when interacting with others outside of your family.  You won't have to wear masks at pools or beaches where physical distancing is possible.  All hotels are being certified by the local government to ensure they're following local health and cleaning guidelines.
Visitors are asked to register with the Ministry of Health, Wellness and the Environment for contact tracing and possible monitoring.
BAHAMAS:
The Bahamas had begun its 2-phase reopening to international travelers, however, due to rising COVID-19 cases in the U.S. and elsewhere, they had to re-close their borders.  U.S. travelers are currently banned from entry.  After July 22, the islands stopped almost all international commercial flights to the island, with the exception of a few flights from Canada, the United Kingdom, and the European Union. Travelers from other countries are required to submit a Travel Health Visa Application and present a confirmation upon arrival.  Also, visitors are required to show negative COVID-19 test results from a test taken no more than 10 days prior to the date of travel.  Visitors must also fill out a questionnaire or travel health card for government approval and to help with contact tracing.
Hotels will implement enhanced cleaning protocols across properties in guest rooms and public spaces, and provide readily available hand sanitizer and disinfectant wipes as required by the Health Ministry.  Face masks will only be required in areas where physical distancing is not an option (in crowded areas such as the airport).
BARBADOS:
Travelers arriving from China, Europe, Iran, South Korea, the United Kingdom, and the United States will be quarantined for 14 days. Barbadian residents returning from these countries will be required to self-quarantine. Non-residents will be quarantined at a Government facility. There is no projected date for the lifting of this restriction.
You are required to take a coronavirus test within 72 hours of arrival, or you can get one once you arrive, but you'll have to quarantine at least 48 hours while you wait for your results. Like a few other countries on this list, you'll also have to fill out an Embarkation/Disembarkation card confirming that you have not had any COVID-19 symptoms within 72 hours of departure. https://www.visitbarbados.org/covid-19-travel-guidelines-2020
Social distancing will be in effect in public areas on the island. There is a curfew in place: Monday to Thursday from 10 pm to 5 am and 8 pm to 5 am on Friday to Sunday. Beach access is permitted from 5:00 am to 6:30 pm daily. No groups of more than three people are allowed to gather, unless of the same family.
GRENADA:
Grenada currently remains in a state of emergency.  They have adapted a system from the European Centre for Disease that designates countries as either low, medium or high-risk regions. The classification is based on the European Centre for Disease Prevention and Control's "COVID-19 14-day case notification rate per 100,000 population."
Travelers from the U.S. are considered high risk: You must complete and submit the Government of Grenada's Health Declaration form prior to departure. Non-nationals must have travel insurance to cover COVID-19, or declare that they will bear the cost for treatment and isolation. You are required to download the Government of Grenada's Contact Tracing App prior to departure. The App must be kept on your phone for the duration of your quarantine period. Failure to comply will result in a fine of $1,000 EC. You will be required to wear a geofencing watch for 14 days. You are required to present a certified copy of a negative PCR test that was conducted within 7 days of travel (which only applies to passengers coming from a "medium and high-risk" country).  The travel protocols are different if you're traveling from low-med risk countries.  More about that here: https://covid19.gov.gd/wpcontent/uploads/2020/07/Entering_Grenada.pdf
JAMAICA:
Jamaica reopened its international borders on June 15, and tourists are currently allowed to travel within a specific stretch of coast between Negril and Port Antonio (which includes Montego Bay and Ocho Rios). Before flying, travelers will need to complete an online health assessment: https://www.visitjamaica.com/travelauthorization/
Travelers who are residents from U.S. states considered high risk (Arizona, Florida, New York and Texas) are required to upload a negative COVID-19 PCR test result from a College of American Pathologists (CAP) accredited medical laboratory. The test sample collection date must be within 10 days of the arrival date in order to obtain a Travel Authorization.  In addition to uploading the PCR test results to the website, high risk U.S. state travelers will be required to present the original document upon arrival in Jamaica. Other travelers do not have to present or take a COVID-19 test.  Temperature checks for all travelers are required upon arrival at the airport.
Masks are required in public areas. Physical distancing is required on beaches and at pools.  Only hotel properties that have earned a COVID-19 Readiness Certificate will be allowed to open.  The Product Quality Authority will continue to assess each property and update an approved list on the Travel Authorization page of www.visitjamaica.com.
SAINT LUCIA:
All arriving travelers must have a negative result from a PCR test taken no more than 7 days prior to arriving in Saint Lucia. You must also complete a Pre-Arrival Travel Registration Form https://www.stlucia.org/en/covid-19/travel-registration-form/ prior to flying, which will be required for processing on arrival. Travelers are to print and travel with a copy of their registration form.  All travelers will be screened upon arrival, including temperature checks at the St. Lucia airport.
Hotels are getting sanitization certifications to ensure health and safety for guests.  If you're not staying at a certified accommodation, you'll have to quarantine for 14 days upon arrival.  Hotel guests traveling from outside St. Lucia's designated travel bubble (U.S. travelers are outside of the travel bubble) are required to remain on property for the duration of their stay except to participate in water-based excursions arranged by their hotel. Visitors will be required to observe social distancing of six feet. Masks will be required in public places, when within 6 feet of others and in select public spaces at hotels.
TURKS & CAICOS:
Travelers are required to submit an online health screening questionnaire and show proof of both a negative coronavirus test taken with 72 hours of arrival and medical or travel insurance that covers medevac, any costs related to quarantine, ambulance care, or care at a local hospital. Once approved, you'll receive a Turks and Caicos Islands (TCI) Assured sticker https://turksandcaicostourism.com/turks-and-caicos-islands-debut-tci-assured/ and confirmation that you're approved for travel. The TCI Assured sticker is a stamp of approval from the government for hotels, restaurants, public transportation and other services and businesses.  It's proof that hotel and restaurant workers are regularly getting temperature checks, that social distancing is being followed, and that cleaning protocols are being adhered to.
Face masks are required in public places, and there is currently a nightly curfew in place.

When you're ready to travel again:
Travel advisories and island requirements are constantly changing, and coronavirus updates pop up often.  The information for each island provided in this article was collected from resources updated through August 5th.  As you plan your visit to the Caribbean, be sure to visit the tourism boards of each island for the most up to date information before you travel, especially if you are not working with a Travel Consultant who will be guiding and updating you.
As a Travel Consultant, I keep up to date with reliable information from my travel suppliers and worldwide resources on a daily basis so that I can give my travel clients the information they need to make the best decisions about their travel choices.  And I'll keep you updated throughout your travel planning. This is a huge advantage to working with me as compared to booking yourself with an online third-party booking site.
If you're thinking of booking a future Caribbean vacation, consider booking through me at Dreamday Destinations so you'll have the reassurance that you need.  There is no charge for my travel booking services.
For your questions, or to get started with your plans, schedule a Complimentary 30-Minute Phone Consultation here.  I'd be happy to help you!
If you found this article helpful, you may also enjoy this one: Why Working with a Travel Specialist is a WIN for Travelers
Happy travels!
Christine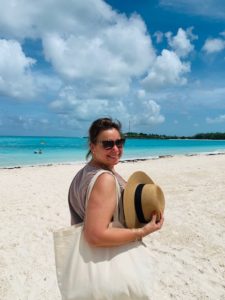 Christine Terezakis is the founder and owner of Dreamday Weddings and Dreamday Destinations. She has over 15 years of experience in the wedding industry as an Accredited Master Wedding Planner and Certified Sandals and Beaches Resorts Specialist. Christine combines her wealth of experience, passion for weddings, and love of travel to inspire, guide, and serve travel-lovers who enjoy the ease and luxury of all-inclusive resorts, and couples who are planning their dream weddings, and Caribbean destination weddings and romantic getaways.
FOLLOW US:
Instagram: @dreamdaydestinations
Facebook: Dreamday Destinations
Facebook: Dreamday Weddings & Events / Dreamday Celebrations
Pinterest: Dreamday Weddings | Dreamday Destinations