Narrowing a destination wedding guest list down to your ideal group of people is a tough task, and it's one of the first things you'll need to do when you start planning. The good news is that planning a destination wedding gives you more latitude for making your own rules when it comes to deciding who to invite, and doing what feels right for you as a couple.
So, to help you avoid the pain and drama of figuring out who makes the cut and who doesn't, I'm sharing my 7 steps to building the destination wedding guest list you truly want.  I hope it will make the process as stress-free as possible for you—meaning you'll avoid hurt feelings and still be on speaking terms with your friends and family by the time your toes hit the sand!
Step 1: Know your destination wedding budget. 
Having a budget to stay within helps you make decisions about many things, including how many people you can afford to invite. Obviously, the more people you invite, the more your wedding will cost.  If your budget is tight, then you'll know from the start to invite a small number of people.  Keep in mind that, for a destination wedding, there will be expenses beyond the wedding day ceremony and reception.  For example, you may provide guest welcome gifts, arrange shuttles, book a group excursion, or host additional activities for your wedding weekend.  All of these plans will be part of your budget and can ultimately help determine how many people you'll be able to invite.
Step 2:  Zero in on your preference.
What size wedding do you envision at your dreamy destination?  Would you enjoy an "Intimate Wedding" of 10-25 guests, a "Friends & Family Wedding" of 40-75 people, or an "Everyone's Invited Wedding" of 100 or more?  The size of your group will have a lot to do with the wedding vibe you create, so be sure to invite the number of people that will fit your vision (AND budget).
Step 3:  Draw the line.
When creating your guest list, it's important to establish clear guidelines. Will you have an age cutoff for kids, or will kids be invited at all?  Will you have a stage-in-relationship basis for allowing plus-ones?  Will you have a point where you'll invite (or not invite) certain groups of people like second cousins, co-workers, gym buddies?  Staying consistent with your rules will clarify and simplify things for you and for your invited guests.  This will also be an easy and honest fallback if anyone questions you about why someone was or wasn't invited.
Step 4:  Consider how many people will actually show up.
The reality is that not everyone you invite to your destination wedding will attend.  In fact, about half of the people you invite will likely decline the invitation.  And deep down inside, you probably have an idea of who those people will be.  For some, the decision will be about the cost, for others it might be a scheduling issue or a health issue or a family issue, or they fear flying, or they don't have a passport…Being realistic about who will come to your destination wedding will be a big help in defining a solid plan of who to invite.
Step 5:  Don't over-invite and then hope for the best.
Sending courtesy invitations is a big mistake.  You know the ones— people who invited you to their wedding 2 years ago and who you haven't seen since, the cousin you've never met that your aunt insists you include, the people you think won't travel from long distance…The list goes on.  Inviting more people than you want (or can afford, or can fit) at your wedding can backfire on you.  We see it all the time—this is a vacation, and the ones you don't expect to say yes are the ones that wind up coming! Don't be pressured into inviting someone you don't know, don't care for, or don't spend time with anymore.  This is the time to celebrate with the people you love most.
Step 6:  Divvy up the list.
Once you know how many you want to invite, I recommend breaking down your total guest list into three smaller lists: One for you (the wedding couple), and one for each of your families.  The lists can be divided equally (1/3 each), or you could have 50% and give your families each 25%.  If you're paying, you could increase your percentage of the invite list.  How the lists are divided depends on your situation.  Just be sure to keep things fair and friendly for your families by giving them each the same allotment as the other.
Step 7: Be serious about your guest list decision and RSVP date.
Land on ONE invite list and ONE RSVP date.  If you're thinking of doing the "A-List/B-List thing," I don't recommend it for a destination wedding.  That's because you'll need to give people as much notice as possible to plan for time off and to make travel arrangements.  Besides, people always find out they weren't on the first list, and their feelings will be hurt.  About that RSVP date…You have to stick to it.  If anyone doesn't respond by the RSVP date on the invite, call them to get their response.  There will be a cut-off date for guests to be able to book within your hotel block.  Plus, you need to know who will be attending so you can wrap up your plans.  If you did steps 1-6, then you'll likely find that your nearest and dearest will respond ON TIME with their "YES!"  And you'll be on your way to celebrating your destination wedding with the people you truly want there the most.
Related Articles: Destination Wedding Planning Etiquette Unveiled | Destination Wedding Planning Essential Starter Kit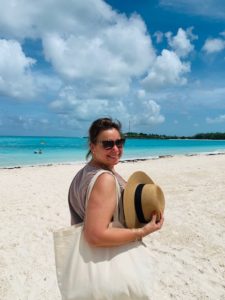 Christine Terezakis is the founder and owner of Dreamday Weddings and Dreamday Destinations. She has over 15 years of experience in the wedding industry as an Accredited Master Wedding Planner and Certified Sandals and Beaches Resorts Specialist. Christine combines her wealth of experience, passion for weddings, and love of travel to inspire, guide, and serve travel-lovers who enjoy the ease and luxury of all-inclusive resorts, and couples who are planning their dream weddings, and Caribbean destination weddings and romantic getaways.
FOLLOW US:
Instagram: @dreamdaydestinations
Facebook: Dreamday Destinations
Facebook: Dreamday Weddings & Events / Dreamday Celebrations
Pinterest: Dreamday Weddings | Dreamday Destinations