Everyone deserves to get the best price and the best value possible when booking a vacation, but not everyone knows how to do that. If you're interested in doing an adult getaway at Sandals, or a family vacation at Beaches, but unsure of how to make the cost fit into your budget, stick right here because we're sharing tips on how to save money on your next Sandals or Beaches vacation.
Hi, I'm Christine (aka: Dreamday Destinations)—Professional Travel Advisor, Wedding Planner, and Certified Sandals & Beaches Resorts Specialist. Over the past 16 years, I've planned vacations at Sandals and Beaches for hundreds of clients, and the most common request I get is to book the vacation experience people want— at the best value possible. So, today I'm sharing the inside scoop.
Let's dive in!
Here's how to save money on your next Sandals or Beaches vacation:
Book as far in advance as possible.
Booking in advance allows you to lock in current prices, including sale prices. So, it's a good idea to book next year's vacation at the current price. Advance booking also gives you more options of available resorts and room categories because popular room categories sell out first, depending on the resort.
~ Booking 9-14 months in advance is what we recommend so you'll have the best chance of getting your top choice. When you start your vacation planning with Dreamday Destinations, we can book your Sandals or Beaches vacation as much as two years in advance. And you won't have to worry if you need to change your date, modify your reservation, or cancel because we handle those details so you don't have to. The earlier you book with us, the sooner we can start helping you with your complete vacation planning, which we always include for free.
Vacation during the non-peak (cheapest) seasons.
Typically, the best prices for your stay will be found from late April to mid-June (dates when school is in session and there are no holiday breaks), and late August to early November. Avoid major holiday weeks and the Caribbean's high-season (mid-December to mid-April) when prices are the highest and the resorts have the most occupancy.
~ Seeking out room availability, searching the best prices, and giving you the information needed when you're trying to choose the best dates to travel are all services we include for our travel clients. Beyond pricing, there are travel insights we'll provide about your desired destination such as seasonal weather trends and local festivities you might expect at that time.
Take advantage of special deals & special discounts.
These are great ways to add an extra night or upgrade your room without paying more than you've budgeted for:
There are times when Sandals and Beaches offer bonuses such as a % discount, free night stay, spa credits, excursions, special activities, unique gift items, and/or airfare credits. These deals are offered for a limited time, and are based on the resort, room category, length of stay, and qualifying travel dates for that particular deal.
~ Keeping up-to-date with the most current deals and promotions is one of the most important things we do for our clients when creating their bookings.  We are sure to seek those out when quoting your vacation pricing. If your room price drops once we've booked your stay, we work with Sandals/Beaches to change your reservation or get you an adjustment if the new rate/promotion allows.
Sandals and Beaches Resorts also offer a 10% discount on top of promotions for military personnel, Dept of Defense employees, police officers, and firefighters. Not all hotel brands offer this courtesy, which is why a Sandals or Beaches vacation is a great option for travelers who meet any of these criteria.
Sandals and Beaches offer a Free Anniversary Night promotion for guests staying in a Club or Butler Level room for 7+ nights, 30 days before or after your wedding anniversary.
There's a reward program for repeat guests. If you've previously stayed at Sandals or Beaches, then you're eligible to sign up for the Select Reward Program to receive discounts and extra perks on your next stay.
Honeymooners can enjoy a Free Honeymoon Packages which includes some extra treats like a sparkling wine welcome in your room and breakfast in bed on the day of your choice.
~ We always make sure our clients are aware of these added discounts and bonuses, and how to make sure they're validated. If you'll be celebrating something special, or if you qualify for the discounts, we'll make certain the resort is aware and that you know of anything you'll need to provide to the resort to receive the special discounts or packages.
Get your room for FREE.
One huge benefit to booking as a group at Sandals or Beaches is that you can qualify to receive a free room. So, gather together your friends and family for a group vacation, and your room could be paid for! Depending on when you'll be staying, groups of 5 or more rooms start getting the added perks. Groups of 10 or more rooms get even more added perks such as group events & activities. It doesn't get cheaper than FREE!
~ The details are taken care of for you…When we book your group, we handle each booking so that you won't have to bother with everyone's questions, or worry about their payments and booking arrangements. We also keep track for you of all of the perks you'll receive based on the number of rooms that book in your group. Over the years we've booked all kinds of groups from destination weddings to birthdays to clubs to friends who just want to spend a fun vacation together.
Choose an entry level room category.
Whether you stay in the least expensive room, or the most expensive one, you can have a great vacation because Sandals and Beaches are luxury all-inclusive resorts. Guests enjoy all of the inclusions and resort privileges— restaurants, bars, activities, entertainment, pools, beaches, and access to all common areas of the property. Sure, you'll forego a swim-up suite with extra in-room amenities and private butler service, but you still get the luxury resort experience!
~ As our client, you'll be guided by us about which room to choose if you're unsure. As a Travel Advisor and Sandals & Beaches Certified Specialist, I've stayed at the resorts multiple times, and can tell you everything you need to know for choosing which type of room to stay in—the room view, the service level, which amenities are included, where the room is located in regard to the hub of activity, and anything else that is important to you for your decision-making.
Try some budgeting tricks:
Instead of paying in full, pay your minimum deposit and opt to spread out the payments for your trip with a zero-interest payment plan. Your final balance isn't due until 46 days before you arrive. When you book well in advance (see tip #1), you can make small payments over time instead of getting hit with the full bill all at once. If you can, make payments with a credit card that gives you cash back.
Ask for gifts. (Christmas? Birthday? Wedding?) Use bank gift cards to make payments toward your vacation. In lieu of wedding gifts, have people purchase experiences you can enjoy while on your trip such as excursions and spa treatments. (Sandals and Beaches offer wedding gift registries for this purpose.)
Start a vacation jar. Every time you skip going out to dinner (or buying a coffee at Starbucks), toss the money you would have spent into that jar. Also, throw your loose change from the end of the day in there. Put that saved money toward your trip expenses. You'll be amazed at how all of those pennies add up!
~ Here at Dreamday, we're happy to make vacation budgeting easy by setting up a zero-interest payment plan for you with Sandals and Beaches. We can also set up convenient automatic-payments so you don't have to worry about missing a payment. And if you're getting married or doing a honeymoon at Sandals or Beaches, we can assist with getting a gift registry set up for you as well.
Book with a Professional Travel Advisor who is a Sandals and Beaches Certified Specialist.
(Shameless plug, but TRUE.) When it comes to saving money on your Sandals or Beaches vacation, booking with a knowledgeable and experienced travel pro is the biggest tip to getting you the best price and the most value. When you book with Dreamday Destinations, we're here to personally assist you before, during, and after your trip.
Ready to get those vacation plans started? We'd love to add you to our family of happy travel clients!
Click here today to request your Complimentary Discovery Call for questions and price quotes.
About the Author:
Christine Terezakis is the founder and owner of Dreamday Weddings and Dreamday Destinations. She has over 16 years of experience in the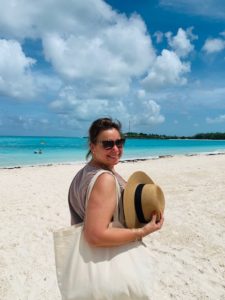 wedding and travel industry as an Accredited Master Wedding Planner, Destination Wedding Planner and Certified Sandals and Beaches Resorts Specialist. Christine combines her wealth of experience, passion for weddings, and love of travel to inspire, guide, and serve travel-lovers who enjoy the ease and luxury of all-inclusive resorts, and couples who are planning their dream weddings, and Caribbean destination weddings and romantic getaways.
FOLLOW US:
Instagram: @dreamdaydestinations
Facebook: Dreamday Destinations
Facebook: Dreamday Weddings & Events / Dreamday Celebrations