Want some wedding planning tips that will give you clarity and help jump-start your destination wedding plans? Keep reading!
Tip #1: GET ORGANIZED
Doing this now will make things easier for you as you move through all the stages of your planning. Create a system to organize all of your important wedding information in one place. (Think planning timeline, contracts, vendor contact info and anything else you'll need to keep track of.) Use a simple 3-ring binder so your organized system is portable enough to take with you on wedding errands or to flip through quickly during your virtual planning appointments. (Besides, a cute binder will make you smile more than a digital file will!)
Tip #2: SET YOUR WEDDING BUDGET
Have a realistic conversation with everyone who will contribute to paying for your wedding (both sets of parents for example) and decide what you'll be able to spend in total for your wedding. Once your overall budget is decided, stick to it when researching destination venues/resorts, selecting wedding packages and hiring vendors. Your budget will set cost parameters that will help narrow down your options.
Tip #3: PICK YOUR DATE
To be able to lock in your destination venue/resort with a contract, you'll need to have a wedding date in mind. A specific date is also needed for exact costs since prices for wedding packages and hotel rooms can vary by season and by day of the week depending on the destination. Have an alternative date in mind in case there's a location you have your heart set on that might not be available for your first-choice date. Setting your date will quickly help with decisions because any venues/resorts that aren't available for your date can be eliminated from your option list right away.
Tip #4: ESTABLISH YOUR GUEST COUNT
Although invitations haven't gone out yet, you'll need a good estimate of how many people will actually be attending your destination wedding because this will directly affect your venue/resort decision. The venue must be able to comfortably and safely accommodate your number of guests, and destination wedding packages are created (and priced) with certain guest-counts in mind.  This count will also directly affect the total wedding budget you've established (in Tip #2).
Tip #5: ENLIST HELP NOW
The best time to start working with a professional Destination Wedding & Travel Planner is when you start planning so they can do the research and recommendations for you—as well as keep you on track with your plans and manage all the travel plans for your guests. But, if you won't be hiring a professional to help you, then be sure to ask for help from your friends and family. Wedding planning is fun, but there are a lot of additional details to stay on top of for a destination wedding. Whether your help is from friends or from a professional planner, knowing you're not alone in the process should help give you peace of mind.
Still feeling a little overwhelmed about where to begin with your destination wedding planning?
We've got you covered!
Download our Free Destination Wedding Essential Starter Kit. It will help keep you organized with quick tips, worksheets, and checklists to get your destination wedding plans off to the right start!
Happy planning,
Christine
About the Author: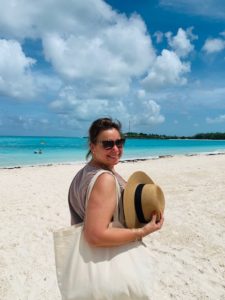 Christine Terezakis is the founder and owner of Dreamday Weddings and Dreamday Destinations. She has over 16 years of experience in the wedding and travel industry as an Accredited Master Wedding Planner, Destination Wedding Travel Advisor, and Certified Sandals and Beaches Resorts Specialist. Christine combines her wealth of experience, passion for weddings, and love of travel to inspire, guide, and serve travel-lovers who enjoy the ease and luxury of all-inclusive resorts, and couples who are planning their dream weddings, and Caribbean destination weddings and romantic getaways.
FOLLOW US:
Instagram: @dreamdaydestinations
Facebook: Dreamday Destinations
Facebook: Dreamday Weddings & Events / Dreamday Celebrations