Planning your packing list for a romantic getaway?  Today I'm sharing ideas for some must-have items to bring along on your romantic vacation or honeymoon!
In addition to all of the amenities that couples enjoy while staying at an all-inclusive resort,  there are little things that you can bring with you to make your stay a totally romantic experience. Toss these seven items into your suitcase, and you'll be all set!
Candles. Nothing sets the mood for romance like candlelight does. Pack travel sized candles in tins, or bring tea lights and small glass holders. They're not only great for your bedroom, but also wonderful to enjoy on your balcony, around your bath tub, or at poolside if you have a private one. And, don't forget to bring matches! (You won't find those in your room.)
A new fragrance to tantalize the senses. Pack a new perfume or sexy cologne you've each never worn before, and wear it while on your vacation. Since these scents are new to you as a couple, you'll start to associate them with your romantic vacation experience. The same can be achieved with a new fragrance of body oil or lotion.
Decadent bubble bath and shower products. Many of the accommodations at romantic destinations have lush bathrooms with large showers and tubs meant for two. Bring some luxurious bathing products for pampering each other and enjoying together.
Music. Create a romantic playlist just for your trip. Pack a small Bluetooth speaker so you can play music from your phone… and wherever the mood takes you.
Chocolates. This is a romantic munchie that can be lots of fun to share. (And they pair perfectly with another romantic treat—CHAMPAGNE!) Sure, you might be able to buy chocolates at the resort, but if you buy small box before you leave home, they'll be handy whenever you want them.
Note paper. Spontaneously while on your trip…write love notes and leave each other surprise messages. These will capture the essence of your romance, and become priceless keepsakes you'll treasure forever.
Blank journal.   This is an idea that's meaningful and fun, especially for a honeymoon. Take a few moments together throughout your trip to write about where you are, what you've done, and what you're feeling. Record exact names of places you visit because you may want to return for an anniversary, and you'll want to remember the name of that restaurant you loved, or the tour company you used. A journal makes a wonderful memento of the adventures you share as you begin life's journey together.
These are the kinds of little tips I love to share with my travel clients.  If you're considering a vacation or honeymoon at Sandals or Beaches Resorts, and if you'd like some help from an experienced Travel Specialist, contact me by clicking here, or email me directly at info@dreamdaytravels.com.  I'd love to help you!
Related Articles: 12 Fun Things To Do When It Rains On Your Beach Vacation
Happy romantic travels,
Christine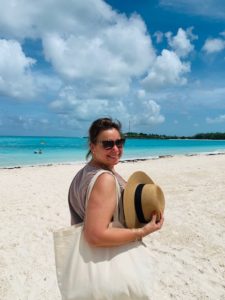 Christine Terezakis is the founder and owner of Dreamday Weddings and its sister website, Dreamday Travels.  She has over 15 years of experience in the wedding and travel industries as a Wedding Planner and Certified Sandals and Beaches Resorts Specialist.  Christine combines her wealth of experience, passion for weddings, and love of travel to inspire, guide, and serve vacationers who enjoy the luxuries of all-inclusive Caribbean resort getaways, and couples who are planning their dream weddings, Caribbean destination weddings, and honeymoons.
FOLLOW US:
Instagram: @dreamdaydestinations
Facebook: Dreamday Destinations
Facebook: Dreamday Weddings & Events / Dreamday Celebrations
Pinterest: Dreamday Weddings | Dreamday Destinations