If you're thinking about a Caribbean Destination Wedding or Vow Renewal Celebration when you're ready to travel again, I'd like to personally invite you to a special destination wedding webinar—a Sandals Virtual Wedding Party! 
We are partnered with Sandals® and Beaches® Resorts to offer you a free webinar where you can "visit" Sandals® and Beaches® Destination Weddings from the comfort of your home.  (Hey, you're probably stuck in the house anyway these days, so, what have you got to lose?)
Pour yourselves some champagne ("clink"), sit back and relax while you get a tour of wedding inspirations, the latest information and inside scoop about hosting your destination wedding or Re-Tie the Knot celebration at Sandals® and Beaches® Resorts in the beautiful Caribbean.
SANDALS VIRTUAL WEDDING PARTY
Destination Wedding Webinar Dates: 
Wednesday, September 16th
Wednesday, September 23rd
Wednesday, September 30th
TIME:
6:00 pm EST / 5:00 pm CST / 3:00 pm PST
RSVP:
Email info@dreamdaytravels.com with your first & last name, best email,  estimated wedding date, and which webinar date you'd like to attend.
*** You will be sent a unique link to join the webinar ***
Would you enjoy a spa credit?  You can be eligible if you attend!
There will be an exclusive booking incentive of up to a $250 Spa Credit for wedding couples who attend the event and book their room and wedding with me, Christine at Dreamday Destinations, within 14 days of the event.  (You can book your celebration up to 2 years in advance.) That's in addition to the free Sandals® Wedding package and the additional perks you can earn as your destination wedding group grows.    (But you'll hear more about those juicy details on the webinar!)
Are you wondering if it's too early for you to book your Sandals® or Beaches® destination wedding or Re-Tie the Knot celebration?
It's definitely not too early to reserve your date.  Sandals® and Beaches® Resort locations are already accepting Destination Wedding and Re-Tie the Knot dates through the end of 2022.  Since couples are rescheduling their postponed celebrations due to the COVID-19 pandemic, future wedding dates at the resorts will be filling up.
So, if after the webinar you think a celebration at Sandals® or Beaches® might be in your future, you'll want me to reserve your date for you as soon as possible.  I'm here to help you get the jump on your top date choices and to answer any questions you may have about your Caribbean destination wedding or vow renewal celebration.  I can also help you with your planning if you need a little more support along the way. You can get in touch with me right here.
Still unsure about where to begin with your plans?
GET YOUR FREE DESTINATION WEDDING PLANNING STARTER KIT HERE.
CHEERS!
Christine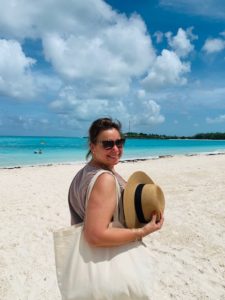 Christine Terezakis is the founder and owner of Dreamday Weddings and Dreamday Destinations. She has over 15 years of experience in the wedding industry as an Accredited Master Wedding Planner and Certified Sandals and Beaches Resorts Specialist. Christine combines her wealth of experience, passion for weddings, and love of travel to inspire, guide, and serve travel-lovers who enjoy the ease and luxury of all-inclusive resorts, and couples who are planning their dream weddings, and Caribbean destination weddings and romantic getaways.
FOLLOW US:
Instagram: @dreamdaydestinations
Facebook: Dreamday Destinations
Facebook: Dreamday Weddings & Events / Dreamday Celebrations
Pinterest: Dreamday Weddings | Dreamday Destinations